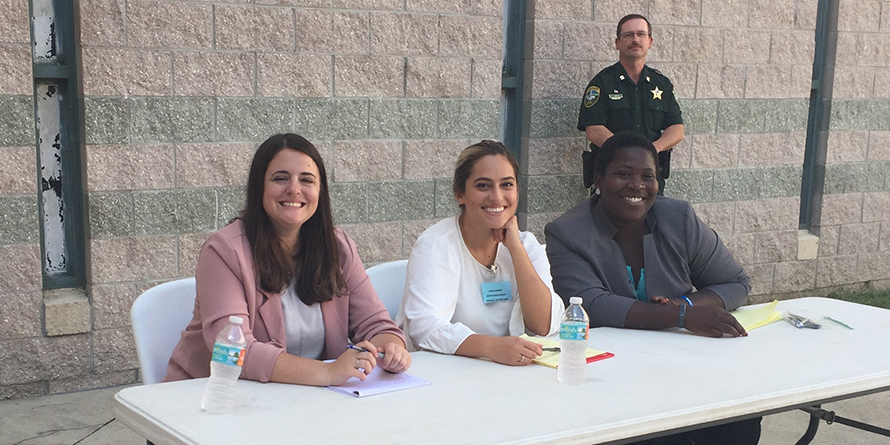 The Gender and Family Justice Clinic addresses the intersection between mass incarceration and families. Clinic students represent people who are incarcerated and formerly incarcerated on family law matters, including child custody and visitation, child support, divorce, and injunctions for protection. Students also develop and teach family law workshops in area jails and prison facilities. Students strengthen their lawyering skills in real-life settings, while supporting their clients as they attempt to address the collateral consequences of incarceration.
Studies have shown that the rate of incarceration of women has increased by more than 800% in the last forty years. Increased awareness of mass incarceration has drawn some attention to the challenges men face, but attention to women's experience in jails and prisons and upon release has not been as robust. The clinic allows students to analyze the collateral consequences of incarceration on women and their families through casework, readings, class discussion, collaboration with classmates and reflection.
The clinic is directed by Clinical Professor Carla Laroche. 
"I am honored to be supervising our passionate and dedicated law students as they address the gap in access to justice. By representing real clients on real cases, clinic students will strengthen their legal skills and be better prepared to practice law upon graduation. Students will have a challenging experience confronting the many legal consequences of incarceration their clients face, and I am enthused to be guiding students on this rewarding journey." - Carla Laroche, Clinical Professor
How to Apply
Students interested in enrolling in the Gender and Family Justice Clinic for the fall, spring, or summer semesters should submit a short application here. Professor Laroche accepts applications on a rolling basis. 
How to Contact Us
Gender and Family Justice Clinic students provide free family law assistance to people who are incarcerated or formerly incarcerated. If you are seeking legal assistance from the clinic, please fill out this form. Alternatively, you may call the Public Interest Law Center at 850.644.9928 to provide your information. No email requests will be considered. Please note that submitting your request does not guarantee legal services will be provided and does not create an attorney-client relationship. You have the right to continue looking for an attorney while we consider your legal issue.
title-inside title-centered
2