Alternative Dispute Resolution/Mediation CME/CLE
---
Alternative Dispute Resolution/Mediation CME/CLE
A Collective 250 Years and 45,000 Mediations
8 Hours Live with the Mediators of Upchurch Watson White & Max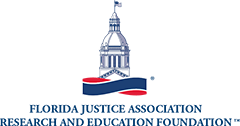 Thank you to our sponsor, the Florida Justice Association Research and Education Foundation.
---
Eighteen Upchurch Watson White & Max mediators, with a collective 250 years of experience and 45,000 mediations conducted, are joining forces to present general law, ethics, domestic violence, and diversity/cultural awareness topics to help in fulfilling both Continuing Mediator Education (CME) and Continuing Legal Education (CLE) requirements.
September 21, 2018 7:30 am - 5 pm
FSU College of Law
Roberts Hall, Room 310
Registration Deadline: Friday, September 14, 2018
---
Schedule
7:35 - 8:10 am
Registration
Continental Breakfast
8:15 - 8:20 am
Welcome
8:25 - 9:15 am
Designing the Mediation Process
Presenters will show how advanced communications and planning with the mediator can set the table for achieving successful mediation parameters while timely dealing with sensitive issues of ethics, culture, and diversity, and domestic violence.
Presenters: Dominic Brandy, Shelley Leinicke, Rodney A. Max
9:20 - 10:10 am
What's Going On in the Other Room
Two experienced mediators will help you understand yourself and others better and show you how mediators can ethically and effectively help reduce the odds of the mediation reaching an impasse. Mediation is not one discrete event, nor a single process, so much as many small processes undertaken consciously and subconsciously by each and every active participant. That is why progress ebbs and flows and may seem elusive for quite a while before it is clearly being made. And those layers flow from the individuals – their experiences, framework, worldview or what we commonly refer to as "perspective." There is also the influence of emotion and related emotional reasoning. All of these factors impact not only what happens from room to room, but also what happens within each one. "One size does not fit all."
Presenters: The Honorable Jeffrey Fleming ('85), Richard Lord
10:10 - 10:25 am
Break
10:30 - 11:20 am
Cross-Cultural Mediation
Through a moderated panel discussion, presenters will explore culture's role in dispute resolution and diversity awareness. They will discuss culture's origins, study the concept of biases and stereotypes, examine subcultures and their effect on communications and show how to value cultural competence as a tool to increase cultural awareness. Like diplomats, mediators need not be of the same race, religion or national origin as the disputants. However, we must identify and address our own cultural and gender perceptions and biases and be ever curious, discouraging attitudes that are judgmental or stereotypical to avoid barriers and foster the credibility and trust necessary for a successful mediation.
Presenters: Ricardo Cata, Arthur Garcia, Jr., Richard Lord
11:25 am - 12:15 pm
The Language of Mediation
This session is designed to increase each participant's sensitivity to both the positive and negative potential of language in the setting of conflict resolution – whether in the role of a mediator or a negotiator. It should aid in the recognition of destructive language patterns and modes of communication. Through a look at cultural metaphors and discourse analysis, it should make each participant realize that language has an impact on a subconscious as well as a conscious level. In the setting of conflict resolution, it offers concrete, positive alternatives to potentially destructive speech. It should increase each participant's awareness of the relationships between language, culture, and diversity. It should increase each participant's sensitivity to the importance of structural and non-verbal aspects of communication. It explores the idea that language can direct thought and action as surely as thought can direct language. It will drive home that, as mediators, we are not only responsible for what we say - we are also responsible for what the listener hears.
Presenters: Howard R. Marsee, Don Weidner (FSU Law Dean Emeritus and Alumni Centennial Professor)
12:15 - 1:05 pm
Lunch
1:10 - 2 pm
Negotiation Skills – Effective Negotiation Strategies Under Impasse Scenarios
The presentation will include the ethical use of information to promote informed decision-making and strategies to break an impasse.
Presenters: Robert Cole ('78), K. Judith Lane, Kimberly Sands
2:05 - 2:55 pm
Standards of Good Faith Conduct in Mediations – Mediators and Lawyers
A survey of existing divergent statutes, court rules, judicial referral orders, administrative rules and ethical standards that seek to define and mandate "good faith" conduct and participation in mediated settlement procedures for lawyers and litigation parties. The program then explores enforcement policy issues, and how "good faith" can be objectively defined. The commonly expressed "satellite litigation" and "confidentiality" problems with implementing good faith standards are reviewed with a concluding discussion on confronting the bad faith problems in order to preserve the integrity of the civil trial mediation process.
Presenters: Carl Schwait, Albert R. Tetrault, Lawrence M. Watson, Jr.
2:55 - 3:10 pm
Break
3:15 - 4:05 pm
Defusing Volatile Emotions
This presentation will educate the participant on the physiology of the brain, the origin of emotion in the brain and how emotion affects behavior and decision-making. The participant will learn how power, status, fear, and reward affect behavior and how the mediator can employ certain techniques to guide and direct parties away from volatile emotions and towards rational decision making. Attendees will learn the techniques developed by the FBI's Crisis Management Unit and used by hostage negotiators worldwide today.
Presenters: The Honorable Jeffrey Fleming ('85), A. Michelle Jernigan
4:10 - 5 pm
The Florida Mediation Movement – A Perspective
Senior mediators, founders of the Upchurch Watson White & Max Mediation Group and pioneers in the Florida mediation movement, will look back over the past 30 years from the creation of the Florida mediation culture to the present. With fellow firm principal Kimberly Sands moderating the discussion, the group will track the growth of mediation as an integral part of our judicial system, review professional business practices that have evolved, define issues and obstacles faced along the way and speculate on what lies ahead for Florida mediators. The expansion and direction of prevailing ethical standards, mediation practice techniques, and professional business models will also be explored and critiqued by the group. "Here's where we started, here's where we are, and here's where it looks like we're going" in the world of Florida mediation.
Presenters: Rodney A. Max, John Upchurch, Lawrence M. Watson, Jr., Terrence M. White 
5 pm
Evaluations and Close
CLE course credits: 8 general and 5 ethics
CME course credits: eligible for up to 8 CME hours, including 4 ethics, 2 diversity/cultural awareness and 2 domestic violence
FSU College of Law Office of Development & Alumni Affairs
Telephone: 850.644.7260 • Email: alumni@law.fsu.edu