Allison Barkett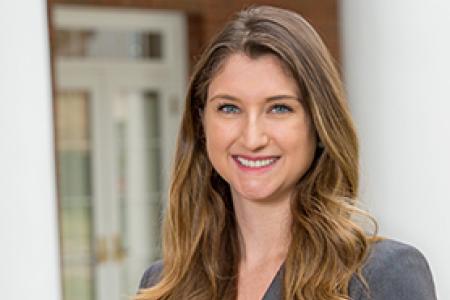 3rd Year
Undergrad
University of Florida
Area of Interest
Environmental Law, First Amendment and Communications Law, International Law
Why did you choose the College of Law?
My interactions with various staff and students through the admissions process were nothing but positive and extremely influential in my decision to attend FSU for law school. FSU was clearly the best fit for me culturally, financially and in terms of my long-term goals. I was impressed with the school's rankings and job placement statistics, but my decision was ultimately made by the school's culture. Everyone I spoke with seemed genuinely concerned with the well-being of the students as individuals, not just with their success as reflected in the school's statistics.
One of my first experiences with FSU Law was with a group of student ambassadors who left such a positive impression on me that they played an enormous part on my decision to attend law school here. I couldn't be happier with my decision and I'm grateful for the opportunity to have that kind of effect on the next generation of students.
What do you feel is unique about being a student at the College of Law? 
Being a student at FSU Law offers the unique opportunity to attend law school in the state capital. Because of our location, students at FSU Law have access to many opportunities that are not available at other schools. Many of the older students I've met with have had direct access to legislators and even Supreme Court Justices through internships and networking experiences. Only FSU can offer the wide array of opportunities available in the capital.
Which College of Law student organization stands out to you?
I've been very impressed by the Women's Law Symposium (WLS) and the network of mentors they have put together to work with the students. The organization has found mentors from all over the legal community here in Tallahassee who are invested in helping students throughout their law school careers. Many of the mentors are graduates of FSU Law and their continued involvement helps make WLS such a valuable organization.
What is your favorite Tallahassee recommendation? 
One of my favorite spots in Tallahassee is Kool Beanz, a restaurant on Thomasville road. I would also strongly recommend Black Dog Cafe at Lake Ella to sit outside and study for a break from the library - especially when the baby ducks are out!
Give one "Fun Fact" about yourself. 
I love to cook and it is one of the ways I help manage the stress of law school. At my previous job, I had a small group of coworkers who paid me to bring and prepare lunch for them three times a week. "Barkett Bistro" was our way of taking a step back from the workday and gave me an audience to try out new recipes and creations.
Email
apb17g@my.fsu.edu