Amy Bhatt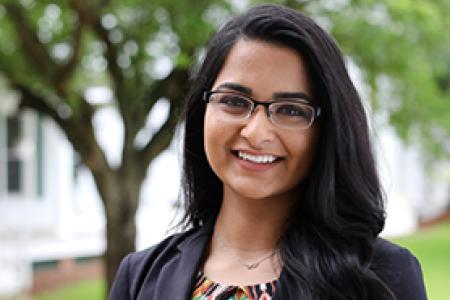 3rd Year
Undergrad
St. Petersburg College
Area of Interest
Business Law, Constitutional Law, Appellate Law, Trial Advocacy, Politics
What advice would you offer to a new incoming 1L law student?
My biggest piece of advice is to not stress too much over grades. They are definitely important, but they do not define who you are as a person. So, if you get a grade that is less than what you expected, don't spiral into those thoughts of whether you belong in law school or not. You would not be in law school if you were not capable. This brings me to my second point: make friends with upperclassman. I can guarantee you there are other students who have been in similar situations and sometimes it helps being able to just talk to someone about it.
What makes our alumni network special?
Our alumni are very invested in the success of the students. Every interaction I have had with an alum has always been phenomenal but a few in particular stand out, specifically Melanie Griffin. During my first year, Melanie came to speak to us at a career development workshop series about interviews and sending thank you cards. I was blown away by her energy and enthusiasm toward the students that I decided to reach out to her afterward. When we set up a time to talk, I had expected we would be able to speak for maybe 10-15 minutes or so but she was so helpful, gave such great advice and didn't mind talking to me for nearly two hours!
Why do you want to be an attorney?
The law affects every part of our lives, from driving a car to starting a business. My own motivation to become an attorney came from the desire to affect change. Whether that be through changing the law itself by working in the legislature, advocating for a particular position on behalf of someone or interpreting the law as a judge, the power of the law has a great effect on people's lives and I want to be at the forefront to help make it happen.
What has been your favorite course or who has been your favorite professor since starting your legal education? 
Without a doubt, my favorite course is Legal Writing and Research with Professor Hanson! I cannot stress the importance of being a good legal writer. Part of being a good lawyer means being able to research unfamiliar areas of law and write clearly, concisely and to the point. Professor Hanson is an amazing professor who always challenged us to be better writers. I remember dreading the Interactive Citation Workshops we did for class. But ultimately, I firmly believe that learning all the different nuances in the Bluebook is one of the things that helped me make Law Review. Even though I don't have her as a professor anymore, I still go to Professor Hanson to talk about how law school and my job is going, and what my future plans are.
Which College of Law student organization stands out to you?
Choosing just one organization is tough because there are several that offer great experiences. But I have always been fond of writing and editing, so I would have to choose the journals. I am currently on the editorial board for FSU Business Reviewand I am a senior staff editor of Law Review. Joining the journals allowed me to build relationships with other people who have similar interests and it also allowed me to be on the cutting edge of scholarship in the area.
What is your favorite Tallahassee recommendation?
One of my favorite things to do my first year was watch oral arguments at the Florida Supreme Court. It's only about a 10 minute walk from the law school. I'm a little bit of a nerd and decided to go every month. You probably don't have to go as frequently as I did but I would definitely recommend going at least once! You're in the capital, you might as well take advantage of it!
Email
amb16d@my.fsu.edu