Anastacia Pirrello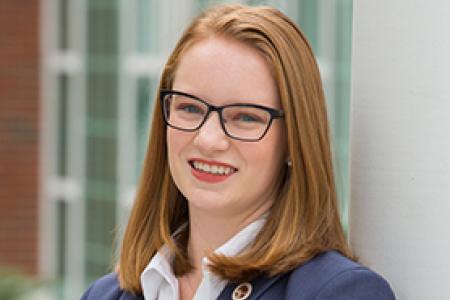 3rd Year
Undergrad
Baylor University
Area of Interest
Environmental Law
What advice would you offer to a new incoming 1L law student?
My advice would be to find ways to ground yourself outside of law school. This experience can be consuming and it's easy to forget that there is a world outside of the small one a law student lives in day to day. I did this by having regular phone conversations with friends who are working and having experiences other than graduate school because I found it reassuring that there is light at the end of the tunnel, and someday I will be working and thriving just as they are. Developing rituals that have nothing to do with law school gives you a nice break and a reminder that there is life beyond the College of Law.
Why did you choose the FSU College of Law?
I chose the FSU College of Law because of the exemplary environmental law program. I felt that coming here provided me with access to the best professors, widest class selection and most enriching externship opportunities. Almost every school has a few courses in environmental and land use law by now, but few have the diversity of courses that FSU offers which provides students the chance to specialize even within environmental law. I was also excited by the prospect of being in another state capital. Having come from Austin, I saw the opportunities that being in a capital city provided and no other law school in the state has the same access to the legislature, courts, agencies, lobbying firms and interest groups. Of particular appeal is that students do not need to take a semester off, take online classes or relocate if they want to take advantage of these opportunities.
What has been your favorite course or who has been your favorite professor since starting your legal education?  
Torts has been my favorite course both because of the subject matter and the professor. To me, Torts is the course in the first semester that feels the most "real" in that it's easy to recognize how it would be applied later in one's career. The subjects you study are interesting and are particularly useful in environmental law given that it was largely founded on the claim of nuisance. Additionally, Professor Sevier is an enthusiastic and engaging professor which always makes the learning experience more enjoyable.
Which College of Law student organization stands out to you? 
The Association of Criminal Justice stands out to me because of the frequency with which they meet. I have enjoyed several of their speakers and heard good things about their mentor program as well. It seems like every week they have another prominent speaker discussing another pertinent issue in criminal justice and I like how dedicated they are to providing a worthwhile experience to their members.
What is your favorite Tallahassee recommendation? 
My favorite recommendation is Cascades Park. It's a smaller park but it has an amphitheater which puts on concerts and it is close to the law school so it can be a nice place to go read or walk your dog on a nice day.
Give one fun fact about yourself. 
In high school, I was an internationally competitive gymnast.
Email
aep17b@my.fsu.edu