Benjamin Lagos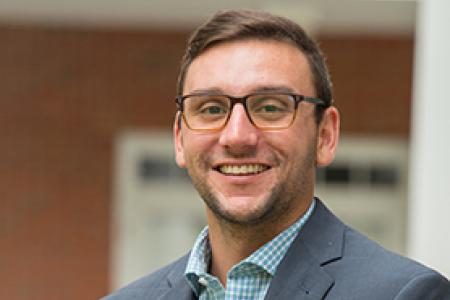 3rd Year
Undergrad
University of Central Florida
Area of Interest
Criminal Law, Government Law, Environmental Law
What advice would you offer to a new incoming 1L law student?
My best advice to any incoming 1L would be to relax and read your emails. The Office of Admissions and the Office of Student Affairs provide incoming 1Ls with every answer imaginable. An incoming 1L simply needs to stay on top of their emails and follow the instructions provided - other than that, relax. If you follow the instructions you will be organized and prepared, but be sure to enjoy the time you have left with family and friends so that you can dedicate yourself to school upon arrival.
What do you feel is unique about being a student at the College of Law? 
The atmosphere. When I visited the College of Law, the student ambassadors who I interacted with continuously stressed the camaraderie among not just the current students, but the faculty. It was something that at the time I took as mere words that every school would use to aid recruiting. The truth is, everything that I was told prior to attending the College of Law was true. The faculty cares about the students' lives both present and future, and this relationship is reflected among the students. While competition exists, the students here all act in accordance with a common goal, and support each other in all our endeavors.
What makes our alumni network special?
I believe that the best example of what makes our alumni special is an experience I had in Publix one night while shopping in my #IAmFSULaw t-shirt. A gentleman approached me and explained that he was an alum and had noticed my shirt. Immediately, he began asking questions about my aspirations and the College of Law today. I had a twenty-minute conversation with this gentleman in the middle of Publix, and prior to departing, he gave me his card and encouraged me to reach out to him with any questions that may arise. Our alumni are actively supporting our students on a daily basis and they are excited to do so.
Which College of Law student organization stands out to you? 
Phi Alpha Delta (PAD). PAD is an organization that I was able to be a part of in undergrad and I have continued that involvement at the College of Law. I love PAD because of the people, and while all organizations have people, PAD gives you the opportunity to work alongside them. Being a member of the PAD Mock Trial team has been an incredible experience. I have become closer to individuals that I would not have met otherwise. I have gained countless mentors, both upper-level students as well as alumni that continue to support the fraternity. Next month, I get the privilege of traveling to Washington D.C. to represent our school in the National PAD Mock Trial tournament and I could not be more proud.
Which administrative office has been particularly helpful to you during your time at the College of Law?
I have found myself in the Career Services Office more than I expected and every time it is a pleasant meeting. I have gone to their office for some of the most meticulous questions you can imagine in the process of applying for summer positions. I always leave with my question answered, confident that I am on the right path. The staff in the office take the time to treat you as an individual person, with a custom and unique career path. The Career Services Office gives me a great deal of confidence moving forward in my academic and professional career.
Email
bml17c@my.fsu.edu