Breanna Raspopovich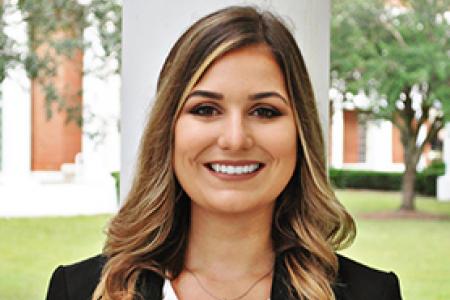 3rd Year
Undergrad
University of Florida
Hometown
St. Petersburg, FL
Area of Interest
Personal Injury, Medical Malpractice, Health Law
What advice would you offer to a new incoming 1L law student? 
Law school is a period of your life when you specifically need to focus on yourself. It may be challenging, but the next three years will shape the rest of your life. You will have many options to weigh and tough decisions to make, but breathe and make decisions with confidence. Remember to always go with what feels right to you and to start each day on a positive note.
What do you feel is unique about being a student at the FSU College of Law? 
I believe the FSU Law community is uniquely compiled of compassionate, hardworking, and helpful students, staff and alumni. Unlike other schools I considered, everyone I met at FSU Law has been so helpful and they truly want you to succeed. In addition, the faucets for success and opportunity are endless. I was never really involved in my undergraduate institution because it was not encouraged as much as it is here. Moreover, applying for a position and getting involved is easy and comfortable at FSU. Coming to campus, I feel blessed to be taught by some of the smartest professors and surrounded by intelligent peers. 
What has been your favorite course or who has been your favorite professor since starting your legal education? 
My favorite course so far has been Torts with Professor Kahn. I am considering personal injury law and a lot of tort cases paralleled with cases I would be handling. The subject was easy to follow as Professor Kahn kept the lectures interesting and interactive. 
Which College of Law student organization stands out to you? 
The Student Bar Association (SBA) stands out to me because I view it as the main organization here on campus. Upon first arriving to the college, many of the first events and speakers were hosted by SBA. Not only do they provide weekly outlets for students to meet and unwind, but they also host many informational events such as mental health week and guest speaker panels. I had a personal connection with this organization as my peers elected me the 1L representative. With this, I was able to actively see how the organization runs and get connected on a deeper level with the College of Law.
What is your favorite Tallahassee recommendation? 
I would recommend future students check out Black Dog Coffee. They have multiple locations and their TallyBomb helped me stay energized during finals week! 
Give one fun fact about yourself. 
I participate in hot yoga classes at least 5 times a week. Come flow with me!
Email
brr16d@my.fsu.edu