Chandler McCoy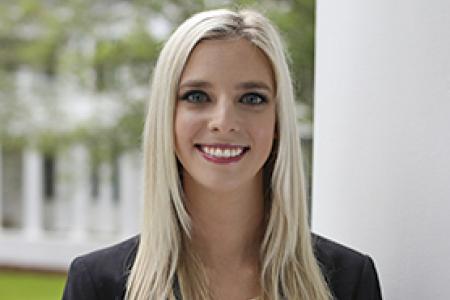 3rd Year
Undergrad
University of Southern Mississippi
Area of Interest
Family Law
What advice would you offer to a new incoming 1L law student?
I would tell an incoming 1L to seek out the advice of 2L and 3L students and practicing attorneys. Any advice from someone who already has law school experience can be invaluable. I would also tell an incoming 1L to try to have a healthy routine in place before starting law school in order to make the transition to a busier schedule easier. 
What makes our alumni network special?
Our alumni at the College of Law are special because they are very involved and truly do want to see the current students succeed. Our alumni have helped the College of Law become the outstanding school it is today and they are eager to continue helping us succeed in any way possible, whether that be through providing employment opportunities or just coming to speak on campus in order to provide valuable guidance. 
Why do you want to be an attorney?
I want to be an attorney for the same reason that many people want to be an attorney: to help people. I have seen the impact that an attorney can have on a family's life so if I can help even one child or family put the pieces of their lives back together and move forward in a positive direction, that would be a win in my book.
What has been your favorite course or who has been your favorite professor since starting your legal education?
My favorite professor has been Professor Ziegler. Professor Ziegler made the concepts in her class easy to understand and fun to learn so I always looked forward to going to her class. She was always consistent, fair, incredibly insightful and interested in the perspectives of her students while still making sure we understood the legal concepts. 
Which College of Law student organization stands out to you and why?
SBA stands out to me because it is a social club that provides the students with an opportunity to get away from studying and school work in order to de-stress. The events put on by SBA provide us with opportunities to network and get to know our fellow classmates in a more casual setting. The connections you make with your classmates are very important because your classmates will one day be your colleagues, so I appreciate being able to socialize with them outside of a classroom setting.  
Which student services office has been particularly helpful to you during your time at the College of Law?
The Career Services and Professional Development Center has been the most helpful to me during my time at the College of Law. The staff in this office have made it much easier to start thinking about my future career in a way that is not stressful. Their constant guidance and tips about what I should be doing at each stage of my time here have made it easier to ensure that I don't fall behind planning for my future. 
What is your favorite Tallahassee recommendation?  
My favorite Tallahassee recommendation is The Bada Bean. It has an amazing breakfast menu and I love to take my family there when they are in town.
Give one fun fact about yourself.
While in high school, I was elected to be on the royal court of the Krewe of Thoth, a 100+ year old Mardi Gras organization that my family has been a part of for years. 
Email
cdm16c@my.fsu.edu