Christina Ahrens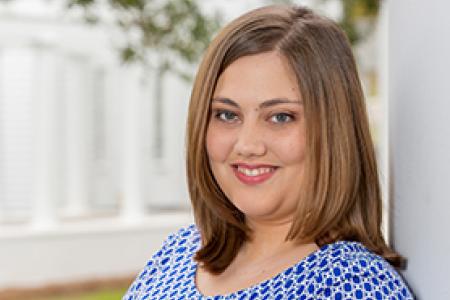 3rd Year
Undergrad
Florida State University
Area of Interest
Contract Law, Sports and Entertainment Law, Business Law
What advice would you offer to a new incoming 1L law student?
My advice would be to work hard but keep balance. It is important to read carefully and completely, but making sure you have friends outside of class is also just as important. It can be very easy to keep your head down and charge forward but coming up for air regularly leads to a much happier life. It is also important to stay healthy; sleeping consistently, exercising regularly and eating healthy things is crucial to keeping your brain working properly.
What do you feel is unique about being a student at the College of Law?
This law school has one of the best "vibes" of any school I've ever been to. My first week of classes in August, I started talking to some 3Ls and we ended up having a really great conversation. I know that if I wave to someone in the hallway, they will wave back. When I missed a class because I was sick, multiple people texted me to make sure I was okay and offered me their notes. I know that if I went to any professor's office, they would talk to me, whether I had their class or not. I know if I am having a problem with anything administrative, I can send Dean Benavides a message and she will work hard to get the issue resolved. The people here care about each other. They want each other to succeed. They want each other to grow and become the best lawyers they can be. I feel blessed that I am a part of this family.
What makes our alumni network special?
I went to a networking event before the semester started and met a few alumni who all gave me amazing advice. I was given business cards right away just because I went to the law school. The alumni care about their school. Being a Phonathon caller has also given me a lot of contact with alumni. By talking to them, I get to see how the law school has not only grown and changed, but how the mutual care and respect present in the school today has been a constant throughout its history. 
Why do you want to be an attorney?
At the moment, I want to be an entertainment or business lawyer dealing with contract negotiations, but I am keeping an open mind because I know that I've only just scratched the surface on law at this point in my law school career. The reason I want to do this kind of law (and any kind of law, really) is because I want people to be treated fairly. For entertainment law, this means keeping an artist or writer's integrity while getting them the best deal they can for their work. For business, I want small businesses to be treated with respect when they do deals with bigger ones. I want people to be proud of their work and to be paid fairly for that work. I believe invention is important and small businesses can do big things. I want to help them do those things and I think being an attorney is a great way for me to do that.
What has been your favorite course or who has been your favorite professor since starting your legal education?  
My favorite professor thus far has been Professor Tahirih Lee. When I first went to her Civil Procedure course, I was worried that I wouldn't enjoy it, and I was getting a bit lost in the readings. Professor Lee made herself available through weekly lunches on campus and weekly study sessions at a local coffee shop. I took advantage of these (and her office hours) and really got to know her and the subject, leading to my highest grade this semester and my favorite class. She is extremely knowledgeable in the subject and she knows how to explain it in different ways so everyone can learn it. She made the complicated network of rules create a complete picture and taught me many ways to be a better lawyer in the real world. I also talked with her about possible career choices and she helped me plan out how to achieve those goals.
Which College of Law student organization stands out to you?
I think the Cuban American Bar Association (CABA) has been the organization that stands out to me the most. My father was born in Cuba and it has been very nice to be able to interact with other students with the same culture. It has also been very helpful with networking, as I'm able to meet people who already have something in common with me besides our chosen careers.
Email
caa14b@my.fsu.edu