Dayna Maeder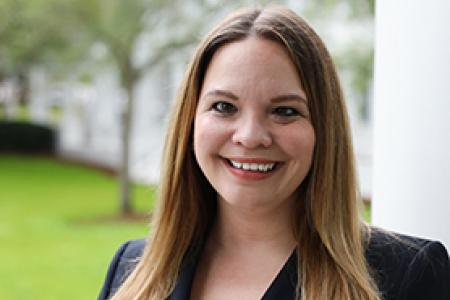 3rd Year
Undergrad
University of Central Florida
Hometown
Winter Garden, FL
Area of Interest
Criminal Law, Family Law
What advice would you offer to a new incoming 1L law student?
Do not panic or stress out! The school wants to see you succeed; the 2Ls and 3Ls want to see you succeed; the professors want to see you succeed - so we are all working together to make sure you have all the resources you need! I remember panicking that I wouldn't be able to sign up for all the clubs I wanted to be in, or that I wouldn't get a locker, or that I wouldn't understand even how to take "law school" notes. I was also stressed about the Socratic Method of instruction. Every new day I got a bit more relaxed as I realized that professors guide you through those first few months and even explain how to dissect cases and take notes. The groups and organizations table so often that you will never miss anything you want to sign up for -- and, now that you know me, I will always be around to answer any questions or help you through any confusing steps.
What do you feel is unique about being a student at the FSU College of Law?
 It's one of only two national top 50 law school in Florida and it boasts the amazing town of Tallahassee. It's not only the capital city, with so many unique opportunities for internships and jobs, but the town itself is not just a "college town" — it's a great place to live for at least three years and maybe more. I also have never been in a group of people who are so excited to see each other succeed. There is underlying competition, sure, but this group of students is all about helping each other and celebrating successes. That is something you can't teach or buy; it's an environment that is created by the type of people in leadership and the type of people who choose FSU. You will always have an amazing team of faculty and staff, and a wonderfully resourceful alumni network who are inspired by helping students. Some say they learn just as much, if not more, from us as we do from them!
Which administrative office has been particularly helpful to you during your time at the College of Law?
All of the offices have friendly and helpful staff and leadership who have been extremely valuable to me, but I really was pleasantly surprised at how much I've benefitted from the Career Services Office. I went in as someone who had extensive work experience and education, so I assumed I knew the ins and outs of landing job interviews and securing a position. I also thought I had my resume pretty well done. Once I sat down with the advisers in Career Services, I realized how much I didn't know about the world of law employment and how nuanced everything is. The collective experience and education in the office is impressive and the advice is rich and extremely beneficial. The emails, the Simplicity postings, the lunches and the On Campus Interviews (OCI), not to mention judicial externship placement, have all played a huge part in building a foundation for my success.
What is your favorite Tallahassee recommendation?
There are two that I absolutely love! One is Breakout Games. It's a team building, problem solving, logic-based immersion game where you have to "escape" from a room using clues and codes. It's so fun! It's a game but also works your brain, which is great for law students! It also promotes camaraderie which is beneficial for law students. The other place is called Flippin' Great Pinball. It's a tiny place off the beaten path that has tons of traditional and classic pinball machines (and some other arcade games) and you can play as much as you want for a flat fee. It's a blast and it's a good place to kick back and relieve some stress! I'd also throw in our favorite lunch go-to Brick Haus, within walking distance from the law school. One of the really cool things about this town is all the unique and special places that just aren't found in any other towns.
Give one fun fact about yourself.
Lately my husband and I have been going skydiving in our spare time - it's a blast!
Email
dm17n@my.fsu.edu