Erica Gloyd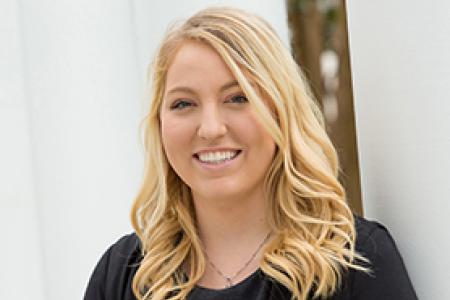 3rd Year
Undergrad
University of South Florida
Area of Interest
Government, Environmental Law
What advice would you offer to a new incoming 1L law student?
The best advice I could give is to not worry if you don't have everything figured out. Everyone at the College of Law is extremely helpful and you will learn so much about what you want to do and how you can do it during your first semester. Also, it may seem like all of your peers have everything figured out, but I promise that you are not alone and there are other people in the same boat as you. It's stressful starting something new, but there are so many resources here that will help make it a smooth and easy transition.
What do you feel is unique about being a student at the College of Law? 
One of the unique things I have noticed about being a student here is how helpful all of the students are to one another. For being such a prestigious school I expected it to be a cutthroat and competitive environment, but it is the exact opposite. The 2L and 3L students are always willing to help the 1L students with advice or answering questions, which made me feel more comfortable and included. Even within the same sections you always see students helping other students if they are confused on a topic or need further explanation of something discussed in class. We are all technically competing against each other, but it never feels like that here at FSU. Not having that competitive environment has actually made me learn more and do better because I am not as focused on someone beating me out, and I am instead just focused on learning and doing well.
What has been your favorite course or who has been your favorite professor since starting your legal education?  
My favorite professor so far is Professor Landau. I had him for Civil Procedure during the first semester of my 1L year. I was so nervous going into his class because he was the first class we had on the first day of law school and I had no idea what to expect. Within that first class he was able to calm my nerves and show me that law school was not as scary as they show in all of the movies. He was able to make a subject that may not be the most interesting, like civil procedure, into something that I thoroughly enjoyed learning. Outside of class, he was very personable and funny, and available to answer any questions about his class or law in general. Overall, I had an amazing first semester in terms of professors, but Professor Landau definitely stood out and I can't wait to take one of his classes again in the future.
Which College of Law student organization stands out to you? 
The Student Bar Association stands out to me for several reasons. The weekly socials they had really helped me meet people my first semester that I wouldn't have met otherwise and provided a fun way to distress and take a break from the hectic schedule that is law school. They also provide so many opportunities, not just for social interactions, but also for professional development and networking. Even with simple things, such as providing the professional headshots each semester, it is something extra that shows they are more than a social organization. I have been to several of their events since starting at FSU Law and they really do have something for everyone.
Which administrative office has been particularly helpful to you during your time at the College of Law? 
The Career Services Office has been extremely helpful. The workshops they put on have made me more comfortable about the internship and job application process, and have helped me feel more prepared going forward. They are always willing to set up times to meet one-on-one and provide valuable insight into opportunities that would fit well with my career goals. After meeting with one of the J.D. advisors, I had a whole list of contacts and ideas that I would not have been able to find on my own.
What is your favorite Tallahassee recommendation?
There is a group called Move Tallahassee that hosts trail walks every other Saturday morning at different trails in Tallahassee. It is a great way to get out and explore new hiking trails in the Tallahassee area! 
Email
erg13c@my.fsu.edu