Freddelle Menard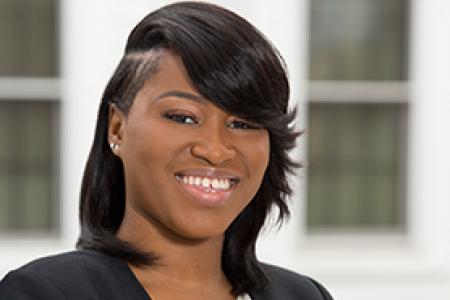 3rd Year
Undergrad
Florida A&M University
Area of Interest
Criminal Law, Corporate Law, Commercial Law
Why did you choose the College of Law?
I was accepted into every school that I applied to and went on several tours, but after attending Admitted Student Preview and doing a personal tour, I fell in love with how attentive the Admissions Office was and the inviting atmosphere at the College of Law.
What do you feel is unique about being a student at the FSU College of Law? 
Every student is truly an individual. The staff and professors cater to each student and remind us that they are all here to help. It doesn't feel like a competition here - it truly feels like one big family.
What makes our alumni network special?
Our alumni giving rate is among the top 10 best in the nation and in addition to the financial support, our alumni help students find employment in various ways such as hosting meetings about different areas of law, and the best avenues of finding internships and employment. They also invite students to the networking meetings and events that they host in their cities. Best of all, our alumni do a good job of actually hiring students at our law school.
Why do you want to be an attorney?
I want to be a voice for the voiceless. Many people believe that if they do not have a large amount of money, then they cannot afford good representation or be compensated for the harm done to them. I would like to change that idea and be one of many who is fighting for a more supportive and inclusive legal system.
Which College of Law student organization stands out to you? 
The Black Law Students Association (BLSA) has stood out to me because they host many events that are inclusive and inviting to other organizations, and I love that they make it one of their goals to include all races, not just black students. Additionally, the types of events that they host are very interesting because they bring attorneys and judges from different fields who did not have "perfect" grades in law school but still became very successful.
What is your favorite Tallahassee recommendation?
Harry's Seafood restaurant: the BEST Cajun restaurant in Tallahassee with great service and amazing food selections. I love to eat and try different types of food.
Email
fm17@my.fsu.edu