Hillary Thornton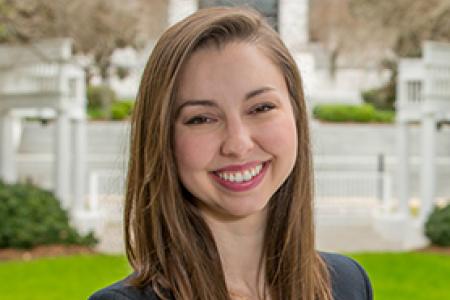 3rd Year
Undergrad
University of Florida
Area of Interest
Civil Litigation
Why did you choose the FSU College of Law?
The atmosphere is electric. The professors and students are friendly and always willing to lend a hand or help you understand a concept. We have some of the top minds in each field and the opportunity to learn from them is beyond compare.
What makes our alumni network special?
Our alumni don't just span the globe, but also the entire range of professions within the legal field. They are friendly, always willing to give advice and genuinely want to get to know the students. It's nice to know that alumni are so willing to act in a mentoring capacity as we transition from school to the working world.
What has been your favorite course or who has been your favorite professor since starting your legal education? 
I have had the good fortune of learning from some of the greatest legal minds but taking Florida Constitutional Law with Professor D'Alemberte has to be a particular highlight of my law school career. He has done so much within the legal field, including serving as a state senator, authoring parts of the current Florida Constitution, being elected as the president of the American Bar Association, serving as dean of the FSU College of Law, and being president of FSU. It was fascinating to learn from such a distinguished and humble individual, and I use the information I learned in his class on a regular basis!
Which College of Law student organization stands out to you and why?
Women's Law Symposium has been fantastic during my time here. Through this organization, I have received a wonderful mentor who has given me advice every step of the way and have had the opportunity to mingle with many local attorneys and judges. Being able to meet such successful individuals is both empowering and inspiring.
Which student services office has been particularly helpful to you during your time at the College of Law? 
The Career Services Office has been great in terms of helping me prepare for the transition into a working environment. They are always available and willing to answer any question and will do whatever is necessary to help students land their dream job.
Give one fun fact about yourself.
I have a feisty little pup named Novo who always keeps me on my toes! I love to explore Tallahassee with her, so let me know if you need recommendations!
Email
het16@my.fsu.edu