Jeff Grosholz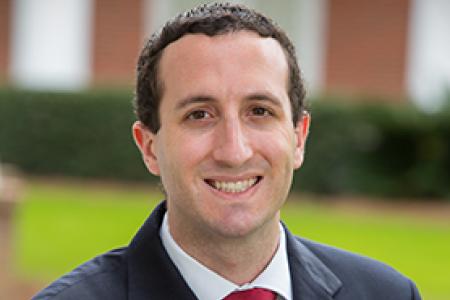 3rd Year
Undergrad
Florida State University
Area of Interest
Civil Rights and Constitutional Law, International Law
Why did you choose the College of Law?
One of the reasons I chose the FSU College of Law was because of the incredible experience I had during my Admitted Students Day visit. I was still undecided on schools, but after my visit my choice was easy. The Ambassador who led my tour was phenomenal, and I was blown away by everything I learned. Tallahassee has unique opportunities that no other place in Florida can offer, namely the abundance of both state and federal courthouses in the city (something a particular law school in Gainesville cannot compete with). 
What do you feel is unique about being a student at the College of Law?
One of FSU's best features is its community. Law school is inherently competitive, but I have never once been treated adversarially by a fellow student, regardless of class year or rank. Upperclassmen have gone above and beyond to assist and aid me in my studies. A rumor about law school is there exists a cutthroat atmosphere where everyone is only out for themselves, and help is hard to come by. This may be the case elsewhere, but at FSU it could not be further from the truth. 
Why do you want to be an attorney?
I want to be an attorney because we live in a society where there are thousands, if not millions, of individuals who every year are denied access to the legal system because they cannot get a foot in the door. I want to help people and improve the lives of those who have less than me. I have been extremely fortunate in my life, and I strongly feel that there is nothing more important than to pay that forward. I believe that everyone should be afforded to live with dignity and my goal is to provide assistance to those who need help in securing this reality.
What has been your favorite course or who has been your favorite professor since starting your legal education?
My favorite course has been Civil Procedure, which dovetails with the fact that my favorite professor is Professor Landau. I rank Civil Procedure highest because it lays the foundation for what attorneys need to know before ever setting foot inside a courtroom. Civil Procedure, as the "inside baseball" of the legal world, is crucial to understanding the mechanisms that keep our system running. Professor Landau was able to distill this extremely doctrinal, and somewhat esoteric, subject matter into digestible and understandable chunks. I appreciated that he was able to make the material relatable on a level for students to easily comprehend. 
Which College of Law student organization stands out to you and why?
My favorite organization is Phi Alpha Delta (PAD), but I might be biased since I'm on the executive board. Still, I like to think that no other group at the College of Law offers both the social aspect of PAD, along with strong co-curricular opportunities like mock trial. Participating on the PAD mock trial team has been one of the most rewarding parts of law school and I had a blast at our competition in Washington D.C.
Which student services office has been particularly helpful to you during your time at the College of Law?
The Office of Admissions was extremely helpful to me before I started at the College of Law. Prior to 1L year I was living abroad, which made applying a unique experience. The Office of Admissions was always receptive to questions I had, and they went out of their way to make me feel wanted. My acceptance letter had a hand-written note on it welcoming me back to the FSU community (I got my undergrad degree at FSU). The attention and help I received from the Office of Admissions played a definite role in my choice to attend FSU.
What is your favorite Tallahassee recommendation?
For this I actually have two spots, because both are equally great. First is Olean's Cafe, which is a short drive from FSU. They have the best breakfast in all of Tallahassee, and Ms. O is one of the kindest people around. For any transplants to Florida, or the South, this is some of the best cooking you can get. Second is Voodoo Dog, which is walking distance from FSU. My study group and I always seem to wind up here after meetings. Ask any student and they will tell you this is one of the best places near the law school. Try the Jefferson, you will fall in love.
Give one fun fact about yourself.
I have lived in four different countries (USA, England, Italy, Japan) and I have visited fifteen different countries.
Email
jjg06g@my.fsu.edu