Joe Burns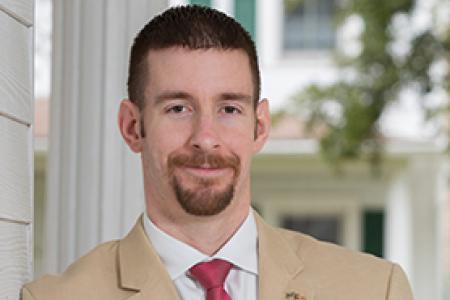 3rd Year
Undergrad
University of West Florida
Area of Interest
Criminal Law, Property Law
Why did you choose the College of Law?
FSU Law has excellently ranked individual programs, as well as a great overall ranking. I would like to work somewhere in the panhandle of Florida and I think FSU's influence in the area is advantageous to achieving that goal. The inviting atmosphere exuded by the students, faculty and staff sealed my decision.
What do you feel is unique about being a student at the College of Law? 
While other schools have sent the message "you want to come here," I have always felt that FSU Law sends the message "we want you to come here." When you enroll at FSU Law, you really are joining a family. During my first semester, the college proved that wasn't just talk. I had to lean heavily on the FSU Law family and they were there for me. When I needed help moving, I put out a call for help and people I had never met came to help me. When my son was born and was sent to the NICU for a week and a half, students and faculty sent meals, class notes for the days I missed and faculty met with me one-on-one to ensure I got caught up.
What makes our alumni network special?
Our alumni span the country and the globe. They donate their time to meet individually with students to help them get their career going. They conduct mock interviews to help students improve their interviewing skills and they prefer to hire a fellow FSU alum. In addition, the FSU College of Law has one of the top 10 alumni giving rates in the country. All of this reveals a culture that produces graduates who do not want to be done with the college after they graduate.
Which College of Law student organization stands out to you and why? 
I like the Nontraditional Students Association. As a 32 year old married parent, I sometimes feel like an odd duck sitting in the classroom. I like connecting with others who are in similar situations. They also spearheaded the movement for supporting me after my son was born.
Which administrative office has been particularly helpful to you during your time at the College of Law?
I have to say the Career Services and Professional Development Office has provided the most helpful guidance. Their Career Search Survival Guide, Pinterest Boards and my one-on-one appointment with Dean Henley have made me more confident that I'll be able to secure employment after I graduate by ensuring that I'm doing what I need to be doing at this point in law school.
What is your favorite Tallahassee recommendation?
I love going to Tom Brown Park. There is a large playground for my kids to play and I like to get outside and get some fresh air.
What advice would you offer to a new incoming 1L law student?
Relax. Law school has a reputation for requiring a lot of work, and it does, but it is doable. If you apply the work ethic that got you through your undergraduate work, you'll be fine.
In your law classes, much time is spent examining each individual topic with a microscope. Don't forget to periodically take a step back and look at the big picture. You need to be able to not only explain a topic, but also how it relates to everything you've previously covered in that class.
Email
jcb17h@my.fsu.edu