Karina Flores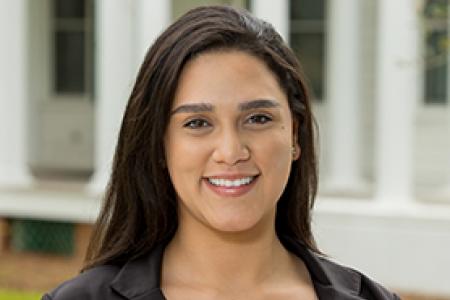 3rd Year
Undergrad
University of Central Florida
Area of Interest
Civil Rights, Criminal Law, Appellate Law, Internet and Privacy Law
What advice would you offer to a new incoming 1L law student?
I would advise incoming 1Ls to relax and take time for themselves before the semester starts. It was something I did not do, so from experience I believe it can truly help coming into a new environment with a clear mind and readiness to tackle the semester. If possible, fit in some traveling, catch up on reading for fun, and just enjoying time with friends and family. Once you are a part of the FSU Law community, new friends, mentors and professors will help you get acclimated and prepared - but before then, have fun!
What do you feel is unique about being a student at the College of Law? 
Being a student at the College of Law is unique because you feel like a part of a community not only at the school, but in the city of Tallahassee. You are part of a large, reputable university while having access to the culture of Tallahassee, the football games, the food and the honor of being a Seminole. I am always surrounded by people who want me to succeed, are approachable and willing to help.
What makes our alumni network special?
Our alumni network spans the globe, but what makes it special are the accomplished attorneys who dedicate time to be involved at the College of Law. Alumni not only attend the many networking events put on by student organizations or the Career Services Office, but they reach out to students personally and offer additional support. I cannot stress enough how valuable signing up for mentorships can be for law students, especially 1Ls. I have mentors who I meet with for coffee or lunch and have not only gotten a glimpse into the day-to-day of practicing attorneys, but learned more about how to approach law school now and what I want out of my law career after graduation. For example, I had a one-on-one tour of the First District Court of Appeal by my mentor, who happens to be one of the judges.
Which College of Law student organization stands out to you? 
The Association of Criminal Justice stands out to me because of its focus on criminal issues. The Speaker Series they organized last semester allowed students to hear first-hand from individuals in the criminal justice field about the inner workings of the criminal justice system in Florida and the current controversial issues our system is facing. It allows one to get involved if they are passionate about criminal justice reform involving issues such as the death penalty and Voting Rights Restoration in Florida.
Which administrative office has been particularly helpful to you during your time at the College of Law? 
The Career Services and Professional Development Center has been extremely helpful. I have been experiencing doubts about the areas of law I am interested in and the office personnel have been understanding and amazing with helping to explore my interests and perfecting my resume and cover letter to put me in the best position for job placement.
What is your favorite Tallahassee recommendation?
I am constantly looking for new places to study. While the Research Center on campus is awesome, I always find it beneficial to switch it up and find new places to sit and read. Tallahassee has great and unique options that can make studying less stressful. All Saints Cafe and Lucky Goat are some of my favorite coffee shops that offer quality coffee and a studious environment. Cascades Park has a cafe and outside seating to sit down, relax and read while enjoying the sun and the scenery.
Email
kmf17@my.fsu.edu