Kathryn Judson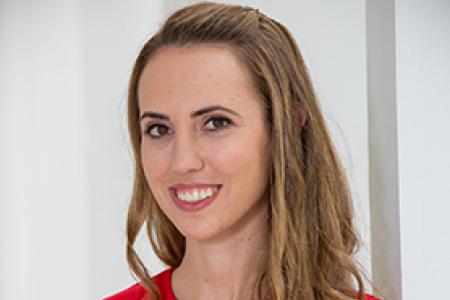 3rd Year
Undergrad
University of South Florida
Area of Interest
Intellectual Property and Patent Law
What advice would you offer a new incoming 1L student?
I would tell them to try to stay focused and to always do your best. It is very easy to get distracted and lost in the thought that you aren't good enough or you aren't as smart as your classmates, but you have to motivate yourself forward. The final exam is just a number, it is not reflective of what kind of attorney or how good of an attorney you will be. The truth is that every attorney will win and every attorney will lose. In order to be successful, you will have to fall a few times in order to gain the strength to face the hardest challenges yet to come.
Why did you choose the College of Law?
I chose the College of Law because I immediately felt at home when I had arrived for the open house. The school is not only beautiful, but the faculty and staff are beautiful as well. Everyone was so cheerful, helpful and truly remarkable. The vast network availability of attorneys in Tallahassee makes FSU a highly desirable law school, as well as its premier location.
Why do you want to be an attorney?
I want to be an attorney for the sole purpose of helping others. I know that being an attorney is not an easy career and it will require me to work hard every day and to keep an open mind to new challenges, experiences and difficulties. However, I am ready for this journey, and I will not give up on myself or on my clients who will depend on me.
What has been your favorite course or who has been your favorite professor since starting your legal education?
My favorite course was Torts with Professor Sevier. He was the most interesting professor and he always made coming to his 9:30am class very exciting. I looked forward to his class every single time and I even told my friends and family about interesting cases or topics that we covered in class. He used PowerPoints, YouTube videos and music to help students connect to the material, which was very useful and practical. I hope to take a class with him again and I would recommend him to any law student.
Which College of Law student organization stands out to you and why?
The Placement Office advisors have been wonderful to me since I have attended law school. They are very eager to help and are always available to assist students whenever needed. At a lot of other schools, the teachers and staff are not even present in their offices. Here at the FSU College of Law, there is always someone that can answer your question. The Placement Office really helps students make connections, meet alumni and inform us about many job and internship opportunities that exist.
Give one fun fact about yourself.
My family and I own nine horses in Dade City, FL. I enjoy horseback riding and spending time with my horses outside in the country. We also own a crazy goat named Gabby, she is a riot!
Email
krj09@my.fsu.edu