McKenna Mundy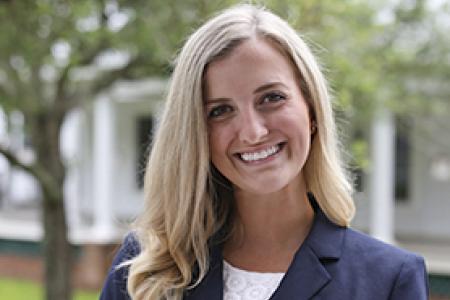 3rd Year
Undergrad
University of Alabama
Area of Interest
Litigation
What do you feel is unique about being a student at the College of Law?
The main thing I think is unique about being a student at the College of Law is our location. Tallahassee is a mixture of a college town and a city, which I have really loved. Students at the College of Law get to enjoy a beautiful campus and all of the exciting school activities that come with being a member of the Florida State community. However, because it is the capital of Florida, Tallahassee also has an abundance of opportunities in the field of law due to all of the court houses and law firms that are located here.
What makes our alumni network special?
Our alumni network is special not only because it is so large but also because of how dedicated many alums are to the College of Law and its students. Even before I decided to attend the College of Law I was put in contact with multiple alums who were more than happy to answer any questions I had for them. The fact that they took the time to talk to prospective students showed me that they still really cared about the College of Law and wanted to ensure that it continued to recruit great students.
Why do you want to be an attorney?
I want to be an attorney because I love the way attorneys are required to use their minds. Attorneys must be logical and often very clever in order to persuade others to understand and agree with their position. The fact that they get to use that style of thinking regularly and are able to help people by doing so is what made becoming an attorney really appealing to me.
What has been your favorite course or who has been your favorite professor since starting your legal education?
My favorite professor so far has been Professor Sevier. He was my Torts professor the first semester of my 1L year. He was my favorite professor because he always found a way to make the material we were covering interesting to us. He would relate issues we were discussing back to current events or even movies to help us better understand them. He was also very friendly and would always take the time to talk to his students whenever he saw them outside of class.
Which College of Law student organization stands out to you and why?
Women's Law Symposium (WLS) is a student organization that stands out to me. This is because I have found being a member of this organization to be extremely beneficial. The mentor I received through WLS is wonderful and always so helpful whenever I have questions. She also helped me get a job as a Student Representative for a Bar prep company and has put me in touch with many of her friends in the Tallahassee area. We see each other and speak regularly and it is because of WLS that I was able to make that connection.
What is your favorite Tallahassee recommendation?
My favorite Tallahassee recommendation would have to be Madison Social. They have great food and drinks and their location near the football stadium cannot be beat on game days.
Give one fun fact about yourself.
I've been to thirteen different countries and three different continents.
Email
mem16b@my.fsu.edu