McLane Edwards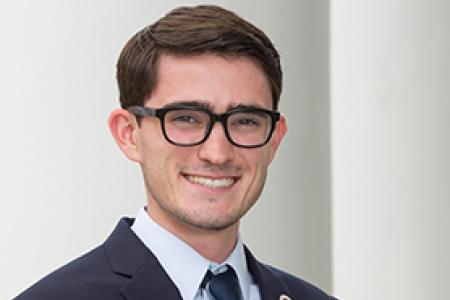 3rd Year
Undergrad
University of Florida
Area of Interest
Criminal Law
What do you feel is unique about being a student at the College of Law? 
Being in the capital of Florida and having laws written literally two blocks from where we take classes, I cannot stress the importance of our location enough. We are privileged to be where we are, not only because of the law school prestige, but because of the countless opportunities that we have to network. We can clerk for Florida Supreme Court justices or work for a committee in the House of Representatives and walk right down the hill to class after. There is something very special about that.
Why do you want to be an attorney?
To help those who cannot help themselves. I also want to be an attorney because I want to help reform parts of criminal law. I want to be a prosecuting attorney after I graduate, and want to be on the side of victims of crimes and the families of the victims of crimes. Prosecuting attorneys seem to have the reputation of being jaded and cold to those who commit crimes against others. This is something that I will try to change through my actions. I hope that as an attorney I can have empathy for those I prosecute. It is important for everyone to feel humanized and is not fair to treat every criminal like they are a bad person. It is possible for good people to do bad things and if all prosecuting attorneys felt the same way, I think the criminal justice system would have a better reputation.
Which College of Law student organization stands out to you?
The Trial Team stands out to me because I am highly interested in trial advocacy. Knowing how to give opening statements, closing arguments, how to argue a motion in limine and how to act appropriately in a court of law is very important to me. I know that Trial Team gives law students the opportunity to learn the tools to be a successful advocate. Joining the Trial Team would certainly help me in my goal of one day becoming a prosecuting attorney.
Which administrative office has been particularly helpful to you during your time at the College of Law? 
The Office of Admissions, without a doubt. Before even being accepted into FSU Law, I was in constant contact with Admissions because I was so nervous about getting accepted. I was even able to set up a meeting with Dean Kessinger a couple of weeks before I was accepted to ask questions. I still have the voicemail saved on my phone that notified me of my acceptance.
What is your favorite Tallahassee recommendation? 
Shell Oyster Bar is always my go-to Tallahassee recommendation. You have to like seafood to enjoy it, but it is one of those "hole in the wall" places you hear about and it's just a couple of blocks away from the law school. I personally go there for the raw oysters, but if someone does not like them then they have a great deal of other seafood options to choose from like shrimp, crab claws and grouper. Shell's is notorious for being one of those places where you never know who you'll see. My dad always told me when the place only seated 7 people several years ago, you could get in line to get oysters and see anyone from Bobby Bowden to the governor of Florida standing in line with you. It's a special place to me and is always my favorite place to recommend.
Email
rme17@my.fsu.edu