Meaghan Maus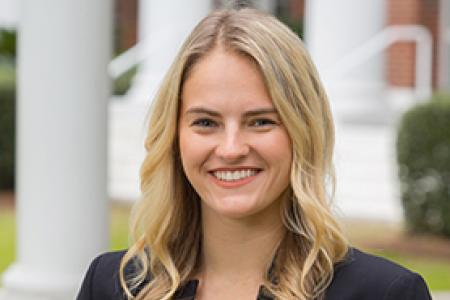 3rd Year
Undergrad
Florida State University
Area of Interest
Sports Law, Entertainment Law, Media Law, Intellectual Property
Why did you choose the FSU College of Law?
Amazing faculty, great resources, awesome location!
What do you feel is unique about being a student at the College of Law? 
The student population is so uplifting. While law school is very competitive, I feel like I have made friends that will last forever. The professors are also so welcoming and helpful. That really made a difference in my first semester.
What makes our alumni network special?
It really feels like alumni want to help you which is a great feeling. People are genuinely interested in you and your success, and they want to watch you grow.
Which College of Law student organization stands out to you? 
I might be biased because I am on the Executive Board, but Women's Law Symposium is my favorite student organization FSU Law has to offer. It is so empowering being surrounded by women who are lifting you up and challenging you every day. I also received a mentor through this organization that I meet with frequently and really appreciate.
Which administrative office has been particularly helpful to you during your time at the College of Law?
The Career Services Office has helped me compile information about potential internships for this summer and has been very helpful!
What is your favorite Tallahassee recommendation? 
I am a Tallahassee local so I could go on about this for a while, but...Food: Coosh's. There is one on the north side one in College Town. It is Cajun style home cooking and is to die for. Events: Tallahassee is growing and becoming more of a hub. My favorite events have to be the home football games. Nothing better than Doak! Boutique: Sparkle by Madison! Park: Cascades Park is so lovely. There is also Railroad Square Art Park which is really quirky and different.
Give one fun fact about yourself. 
I love to travel! I have been to 18 countries and counting. I also participated in the Summer Program in Law in Oxford, England!
Email
mm13ad@my.fsu.edu