Melody Deatherage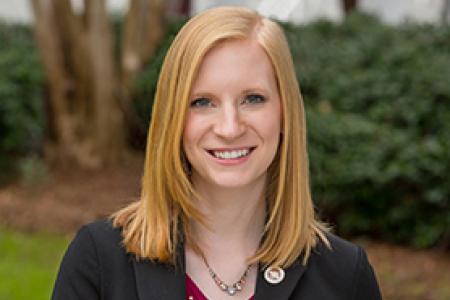 3rd Year
Undergrad
University of Central Florida
Area of Interest
Corporate Law, Business Law
Why did you choose the College of Law?
I chose FSU Law because I thrive in an environment that is encouraging and uplifting with a healthy sense of competition. FSU has brilliant faculty, fantastic job placement statistics, and a large and active alumni base, and yet I think one of their biggest accomplishments is the community they have grown here. Professors are helpful and encouraging in your education, older students are quick to offer advice and support, and the alumni are proud and eager to mentor students. Additionally, I was attracted to the wide variety of employment opportunities available in the Tallahassee area and the unique extracurriculars.
What has been your favorite course or who has been your favorite professor since starting your legal education? 
My favorite professor was Professor Bayern. He had an undeniable passion and thorough understanding of the material he taught, a great sense of humor and a knack for keeping students' attention. Professor Bayern's focus was making sure the class had an understanding of the material and he would entertain as many questions as needed to make sure we all had a fair grasp on the concepts. I also enjoyed his computer engineering background and how that allowed him to give us an interesting and unique perspective on day-to-day activities and fun facts from cases. I left Professor Bayern's class with both a comprehensive understanding of torts and an assortment of fun trivia.
Which College of Law student organization stands out to you?
I was very drawn to the Women's Law Symposium because of the mentorship program they offer and the helpful events that they host. Sometimes you feel very blind-sighted in law school and it's hard to know what you are supposed to be doing, and I have found it immeasurably helpful to be able to seek advice from successful attorneys and older students, and get advice on what to wear or best practices for networking. I've also been impressed by the passion in the Veterans Law Symposium and Nontraditional Students Association because these organizations seek to make our students feel welcomed and at home.
Which administrative office has been particularly helpful to you during your time at the College of Law? 
I was blown away by the Career Search Survival Guide we received during the Career Services Orientation and I continue to be grateful for the resources that office provides. Attending workshops and one-on-one meetings have helped me gain a much better insight into the steps I should be taking to further my career.
What is your favorite Tallahassee recommendation?
I love going to Lake Ella and grabbing a "snowball" from Big Easy Snowballs. It's so refreshing to walk around the beautiful park with a tasty treat to unwind!
Email
mmd16g@my.fsu.edu