Michael Bacallao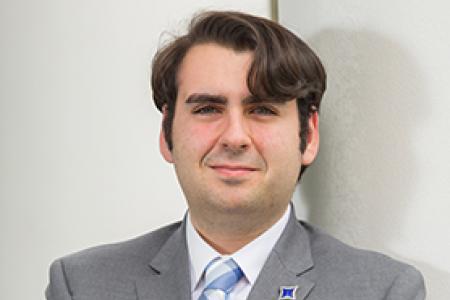 3rd Year
Undergrad
Pennsylvania State University
Area of Interest
Admiralty Law, International Shipping Law
Why did you choose the College of Law?
After going to college in Pennsylvania, I knew I wanted to come back home to Florida for law school. Of all the law schools in this state, FSU Law was the only one that treated me like I was part of their family. When I first visited, I brought my mom and sister with me. After my tour, we all met with Dean Kessinger in her office. She was so excited to meet and talk to both my mom and me. She even gave me some FSU Law gear as well as a t-shirt for my mom. At that point, I felt that Dean Kessinger welcomed me and my family into the larger FSU Law family. Since then, I knew I had made the right choice.
What do you feel is unique about being a student at the College of Law? 
I believe that the most unique thing about being a student at the College of Law is its location. With its location in the state capital, the College of Law is the ideal place to study law in Florida. The state capital has many opportunities to offer law students. From the various government offices to the array of local lawmakers and attorneys, our location gives students the unique opportunity of making meaningful networks and connections that can help them further their careers.
What makes our alumni network special?
Our alumni network in special because they are always willing to help our current students. I have reached out to a few of the alumni and everyone has either met or talked with me to answer my questions and concerns. I was even invited to an alum's house for Christmas Eve. The alumni are like big brothers and sisters who are always willing to help us where they can.
Why do you want to be an attorney?
I want to be an attorney because I love the idea of helping others with their daily lives. The idea of being an attorney excites me. Every person that will walk into my office will have their own unique case. I find this exciting because every case will therefore bring new challenges and help me learn more about the law. In addition, I believe I will be doing a great service as an attorney. By helping people, I will be able to reach out to many in the community by offering my expertise to assist them in their situations.
What has been your favorite course or who has been your favorite professor since starting your legal education?
My favorite professor has been Erin Ryan. I was in Professor Ryan's Property class. She is my favorite professor because she was the first professor in law school that made me feel like I could succeed. Before law school, I was extremely anxious about being cold called in class. In Professor Ryan's class, I sat in the front and she constantly challenged me. As a result, I believe I learned the most in my Property class and I felt that I became more confident in my ability to succeed in law school.
Which College of Law student organization stands out to you? 
The organization that stands out to me most is the Aviation and Space Law Society. In high school, I had the dream of becoming an aerospace engineer and working for NASA. In college, I got a position on my college's rocket launch team. Unfortunately, after weeks of coding, I realized that aerospace engineering was not the career for me. However, I still wanted to do something with the space industry. At the College of Law, I became the 1L representative for the Aviation and Space Law Society. With this organization, I was able to meet Tim Bass, a current attorney at NASA. I have been able to connect and network with Tim and he has become an amazing resource for me to have while in law school. I believe this society shows that the law is far reaching and touches many aspects in our country. In addition, it has kept my dream of working for the space industry alive.
Email
mab17k@my.fsu.edu