Nikki Bhavsar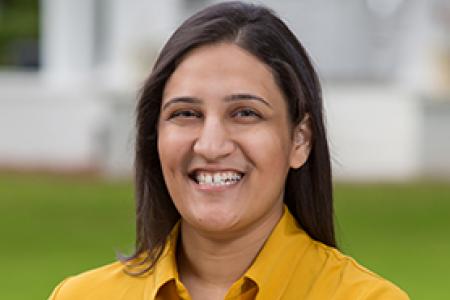 3rd Year
Undergrad
Florida State University
Area of Interest
Entertainment and Sports Law, Business Law, Health Law
Why did you choose the College of Law?
I had the most difficult time choosing a law school. I made a list, weighed factors and thought I knew exactly where I was going to go if I got into all of my schools after I had finished the application process. A student is treated with respect and professionalism at the FSU College of Law by every single individual on this campus. I chose the FSU College of Law because it asked me what I needed from it rather than what I could give.
What do you feel is unique about being a student at the FSU College of Law?
You actually get the privilege of having it all. I do not know anywhere else that gives you the support you need as much as the FSU College of Law. I feel like it is often assumed that support will be given to students as they enter law school, but that is not always the case. At the FSU College of Law a conscious effort is given by each member of the law school community to make our support system stronger than the rest.
What makes our alumni network special?
The very first day of orientation, Dean O'Connor told our class that it takes a village to get through law school and that while law school is a daunting task, the FSU College of Law gives its students a village. I believe that is the key to what makes our alumni network so special: love and camaraderie. The alumni of the FSU College of Law care so much about the current students that it is physically evident, something not seen in many schools. The FSU College of Law creates a bond with ease to let students know that they have a village behind them.
Why do you want to be an attorney?
The social change model requires individual, group and society values to collide in a productive way in order to enable a process of positive, sustainable change. The field of law is one of the few places that an individual can have an impact on individual, group and societal values all at once. I want to become an attorney because I love the idea of someone realizing they are capable of changing their life. I believe being an attorney is the first step in many that I can take to help others feel empowered.
Which FSU College of Law student organization stands out to you and why?
I think the Young Lawyers Division Law Student Division is one student organization that always makes an impact on my week or month with their events. The organization's goal is based upon students feeling more educated, healthier, less stressed and overall happier. I think that it is an organization that allows students to feel more like community as it pushes for communication not within differences but across differences. It allows the FSU College of Law students to truly feel like the upcoming attorneys we soon will be and how together we can celebrate that by giving back to our community and socializing with others.
What is your favorite Tallahassee recommendation?
If I had to recommend a Tallahassee location I would not hesitant in saying to head out to Leon Sinks Geological Area. I had never been to a sinkhole prior to my visit there, and while it is a little bit of a hike, you will be in awe of the destination. The sinkhole has a huge rope swing, open space to catch up with friends and it is a place that is secluded from the town.
Give one fun fact about yourself.
I work as a Hogwarts student at the Wizarding World of Harry Potter at Universal Orlando Resort.
Email
nkb12b@my.fsu.edu