Rachel Eilers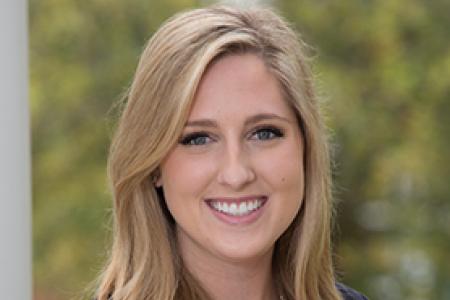 3rd Year
Undergrad
Auburn University
Area of Interest
Health Law, Intellectual Property, International Law
What advice would you offer to a new incoming 1L law student?
My advice would be to not take on law school alone. FSU has various outlets and opportunities that will help guide you along the way so you do not have to deal with the pressures of law school by yourself. I would advise any incoming student to take advantage of these opportunities early on and develop a dialogue with your professors because they really want you to succeed.
Why did you choose the College of Law?
I chose FSU Law because I ultimately wanted to attend the best law school for the best price and in a state where I could see myself working. I found the faculty to be impressive as well as the alumni network, and I really admired the Office of Admissions and the way they handled the application process. FSU Law is easily the best law school in the state of Florida with its small class size, alumni network and impressive faculty.
What do you feel is unique about being a student at the College of Law?Something very unique about being a student at FSU Law is that you are afforded the opportunity to thrive instead of fall behind in a competitive environment. While law school is inherently competitive, I have never felt like I am in a competition with my fellow students. I have appreciated the positivity I receive every day from fellow students and faculty. No matter what, the Placement Office, Research Center and your professors are there to guide and help.
What makes our alumni network special?
The FSU alumni network is special because of how dedicated and loyal they are to the school and its graduates. I have seen such an astounding appreciation from alumni who thoroughly loved their FSU Law experience and continue to show their gratitude post-graduation. This is further evident through FSU Law's distinction as one of the top universities for alumni donations. I feel this is directly attributed to loving your law school experience and therefore wanting to donate your time and money to making it better for the next generation of law students.
What has been your favorite course or who has been your favorite professor since starting your legal education?
My favorite course thus far has been Torts with Professor Ziegler. Professor Ziegler approached the subject of Torts in a manner that was challenging and yet enjoyable to learn. She provided us with interesting cases while also periodically testing our writing and "issue-spotting" skills. She was also approachable and willing to help whenever needed.
Which student services office has been particularly helpful to you during your time at the College of Law?
At this point, the Career Services and Professional Development Center has been immensely helpful. I appreciate that they take the time to explain all of our opportunities in the legal field and meet with each of us individually to plan for the future. The Career Services office is very thorough and makes sure to inform us of every opportunity that is available.
Give one fun fact about yourself.
I have an adopted brother from Romania!
Email
Ree16@my.fsu.edu