Remi Abiodun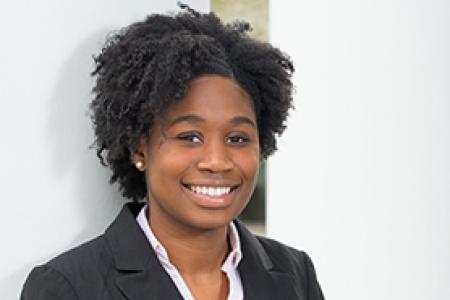 3rd Year
Undergrad
Spelman College
Area of Interest
Public Interest
Why did you choose the College of Law?
My first experience with the College of Law was through the Donald J. Weidner Summer for Undergraduates Program. I appreciated the professors and deans taking an interest in me, my interests, and in my holistic development as a student and a person. People called me and actually spoke with me about my personal statement which let me know they had actually read it and not just looked at my grades or LSAT score. Also, I cannot miss mentioning the scholarship I received because it means a lot when an institution is willing to invest in your future.
What do you feel is unique about being a student at the College of Law? 
Being a student at the College of Law is unique because students come from very diverse backgrounds and all have very different reasons for attending law school. This diversity in experiences is very enriching and beneficial to me because we process information and think so differently. Embracing this uniqueness and being sure to engage with various classmates is key to getting the most out of the law school experience.
What makes our alumni network special?
Our alumni network is special because after working Phonathon, I realized how helpful many are and that they really want to give back whether through money, time or talents.
Why do you want to be an attorney?
I want to be an attorney because I've always been someone who wants to do multiple things and not just be stuck doing the same job for my entire career. I have already started my career as a teacher. Law provides me an opportunity to take my interest in children and work in a variety of ways to continue to impact that population (i.e. juvenile court public defender or district attorney, judge, legislation/policy, academia, appellate work, etc.). Thinking of the opportunities is exciting!
Which administrative office has been particularly helpful to you during your time at the College of Law?
I think the Career Services Office has been really helpful. Even though it may not seem like it, I can speak for fellow 1Ls in saying that we truly appreciate them building relationships with us from day one and holding us accountable in the mandatory sessions to do what they know will help us to get jobs during the summer and upon graduation. They host great events and bring a variety of speakers to the school for us to take advantage of. Finally, having visited them for personal advice, they give me a lot of exposure to opportunities based on my interests that I did not know existed.
Give one fun fact about yourself. 
I love the New Orleans Saints. I watch the games every week, wear Saints gear to school regularly and enjoy talking about the games with my friends and family. Who Dat!
Email
opa17@my.fsu.edu