Ryan Nicholas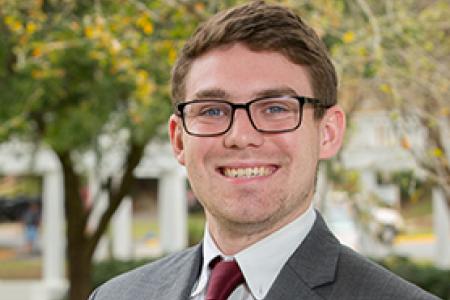 3rd Year
Undergrad
Florida State University
Area of Interest
Land Use Law
Why do you want to be an attorney?
I want to be an attorney because I see the legal system as something that connects all aspects of our modern life. All of my passions share one binding theme - an involvement with the law. My hope is to work in community development, which incorporates business, the environment, economic development, education, and so much more. When deciding how I wanted to go about pursuing this broad area, I decided that in order to be valuable in these settings, having a law degree is extremely beneficial.
What makes our alumni network special?
Everything they have accomplished and that they are so available to students. In pursuing work for this summer, I have emailed several alumni. And every single one that I have emailed has responded and is eager to help in any way they can. Additionally, through student organizations, I have found mentors who I have reached out to me, met with me, and given me advice that has guided me through my experience. No matter what position they are in, or how much they have accomplished, every alum I have met has taken time out of their schedule to talk to me and help me through my law school experience.
What has been your favorite course or who has been your favorite professor since starting your legal education?
My favorite professor has been Professor Bayern. I enjoyed going to my Torts class every single day. He made it engaging, interesting and fun. I generally left class with a smile on my face and learned something new. Additionally, if I ever had a question and wanted to reach out to him, he was very quick in responding to my emails and available to meet.
Which College of Law student organization stands out to you?
Even though I am not involved in it, I think the LitiGators is an awesome organization. I have a lot of friends who have come to FSU College of Law from UF and that organization has given them a cool opportunity to find fellow Gators. I think the organization does a good job of keeping the FSU/UF rivalry up by helping with the annual powder puff game, which was one of my favorite memories from my 1L fall semester (especially because FSU won). And it's an awesome way for people to make friends with others who share a rival alma mater.
What is your favorite Tallahassee recommendation?
Restaurants: Midtown Caboose and Wells Brothers. They are both owned by the same people and make some of the best burgers I've ever had. They each have unique menu items (peanut butter and jelly burgers, s'more burgers, etc.) and it's definitely worth checking out.
Event: Downtown Getdown - a concert in the Collegetown area on the Friday's before home football games. It's an awesome atmosphere, a fun free concert and a cool way to get excited before the game.
Email
rpn13@my.fsu.edu