Sam Lowe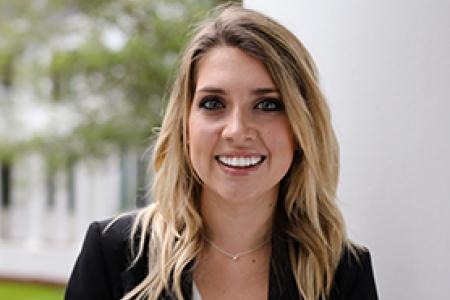 3rd Year
Undergrad
University of Florida
Area of Interest
Criminal Defense, Family Law, International Law, Real Estate Law
Why did you choose the FSU College of Law?
As a former Gator grad, switching over to FSU was not a decision I made lightly. In the beginning, I was unsure about choosing Florida State but as soon as I visited the campus, I knew I could see myself here. My student ambassador was also very informative and helpful in making my decision easier. I really wanted to attend a school that was professional, but also had a "family feel" to it. My ambassador mentioned to me how close and helpful all of the law students were with one another, and that virtually every professor had an open door policy, and that was definitely something that pulled me toward attending the FSU College of Law.
What makes our alumni network special?
I think the fact that our alumni giving rate is among the top 10 in the nation is a testament to the type of alumni network FSU Law has. After participating in Phonathon this past fall, I got the chance to witness this first hand. However, I also had the chance to experience how down to earth and genuine our alumni network is as a whole. Often times I would be calling them during work hours and they usually knew I was calling about our Annual Fund, but that never stopped them from trying to get to know me in the short amount of time they had and giving me as much advice as they could. It was an experience that made me appreciate my place at FSU Law even more and it makes me excited to have the opportunity to potentially work with these type of people later on down the line.
Which College of Law student organization stands out to you?
The Association for Criminal Justice (ACJ) is one of my favorite organizations that I joined. The speaker series that we had was not only interesting, but has helped open my eyes to certain areas of law that I believe I could potentially be interested in. ACJ also set me up with a mentor who has been invaluable in helping me make it through my 1L year, as well as what I want to do long term and what I should be trying to do job wise for this upcoming summer.
Which administrative office has been particularly helpful to you during your time at the College of Law? 
The Career Services Office has been extremely helpful to me in my short time here at FSU Law. My first interaction with the office was when I went in to have my resume looked over by Alisa Duke. As a law student who plans on practicing in a state other than Florida following graduation, Alisa Duke's advice and assistance in attempting to secure an internship for this upcoming summer has been invaluable. Not only did she help me perfect my resume, she also spent an additional 30-40 minutes just trying to help me find potential alumni to contact and other things that I could do to help me get to where I want to be this summer.
What is your favorite Tallahassee recommendation?
Narcissus Boutique; Cold Brew Coffee from Lucky Goat; Truffle Mac 'n Cheese from Clusters and Hops (the best restaurant I have ever been to in Tallahassee); Black Dog Cafe at Lake Ella for studying; Downtown Get Down during football season at College Town; running trails at Cascades Park and San Luis Mission Park; and BLT dip from Madison Social!
Email
sml17c@my.fsu.edu