Sheylla Aceves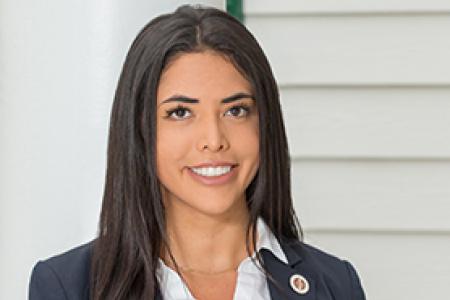 3rd Year
Undergrad
University of South Florida
Area of Interest
Construction Law, Corporate Law
Why did you choose the College of Law?
What solidified my choice to come to FSU Law was my visit to the school after I had applied. Not only was I enamored with the physical beauty of the school, but I was impressed with every individual I encountered that day. My tour guide was greeted by every professor, dean, and student by name and I was able to see how close-knit the students and faculty are. I sat in on Professor Spottwood's Evidence class and that made me even more excited to begin law school. He was engaging, fun, knowledgeable and after leaving his class I knew that if he was a reflection of what the other professors at FSU Law are like, I wanted to go here. 
What do you feel is unique about being a student at the College of Law? 
The faculty is what makes being a student here so special. I can confidently say that every single one of my professors knows my name and has taken the time to get to know my goals and academic capabilities. Office hours take on a whole new meaning at FSU Law. It is not just a time where you discuss a topic you are confused about; each one of your professors goes out of their way to take on the role of a mentor. FSU Law has one of the smallest law school classes in Florida, making it competitive and uniquely adapted to provide individualized instruction for each student. All of the older students I have spoken to in regard to employment have been given the resources and direction they need to find jobs in their field of choice. If you want to work in a particular field and you ask for help, it is given to you. The faculty goes above and beyond to make sure every student finds their calling. 
What makes our alumni network special?
The alumni network is unmatched. My first legal job in college was working for FSU Law alum Brandon Cathey. As a young college kid, I was initially too intimidated to speak to him. When he found out I was applying to law school, he took the time to give me advice and go above and beyond to help me choose the right school for me. There were three attorneys at that firm from FSU Law, and every single one of them went out of their way to discuss their law school experience with me. To this day I remain in contact with them. 
The instruction that these three attorneys offered me may seem like common kindness, but it goes beyond that. I had approached attorneys for advice who had graduated from various other law schools and none of them made me as excited about law school as the ones from FSU. Life as a lawyer isn't always easy; the hours are long and work is grueling. It is easy to lose sight of why you are there, and why you even decided to go to law school in the first place. The law school you attend helps mold you into the type of attorney you will be and my FSU attorney mentors found the way to retain their humility, passion for the law, sense of humor, and optimism despite the difficulties that came with the job. The FSU Law alumni network is a representation of that. Being a part of the FSU Law family means being a part of an alumni network that will always help you be the best version of yourself. 
Which College of Law student organization stands out to you?
The Moot Court Team is the organization that has stood out to me the most. After attending the Final Four competition, I was in awe at the work that goes into each presentation. Not only did they coordinate an argument in front of all of the Florida Supreme Court Judges, they managed to showcase all of their hard work for all of the attendees to see. This showcase gave me a glimpse into what this organization does and I am thoroughly impressed. The challenges that come with writing the brief and presenting in front of a panel of judges are challenges that any law student can admire. 
Which administrative office has been particularly helpful to you during your time at the College of Law? 
The Student Affairs Office and Career Services Office have been a great help to me this past semester. Anytime I have a question about the law, bar application, grades, or life, Dean Benavides has been there to help. Law school is a stressful time - it was nice to know that the administrative faculty was there to talk to me and guide me no matter what obstacles I was facing in school or my personal life. After my first Career Services meeting, I realized that my decision to come to FSU Law was the best decision I ever made. Career Services gave me the tools and guidance that I needed to map out my internship and career path. There are a lot of options for internships, jobs and pro bono work. It was relieving to have the support I needed to help me tailor my plan and not get overwhelmed. 
What is your favorite Tallahassee recommendation?
I have three must-do recommendations for law students coming to Tallahassee: Kool Beanz Café for a good meal, Madison Social for a night out, and the alumni homecoming tailgate event. Kool Beanz is the perfect showcase of the delicious and unique food you can find in this town. Madison Social will never let you down. It is the perfect place for grad students to grab a bite to eat and socialize. The FSU Law alumni tailgate is a must do event. Having gone this year, there is no way I would ever miss it. I ran into my old boss Brandon Cathey and met so many great attorneys. It is the perfect time to network and meet alumni. Every attorney there is proud of their school and it is nice to show them that we are working hard to make FSU Law even better every year. 
Give one fun fact about yourself. 
I know how to pour a perfect slab of concrete and operate a laser screed. 
Email
sa17s@my.fsu.edu