Sydney Mann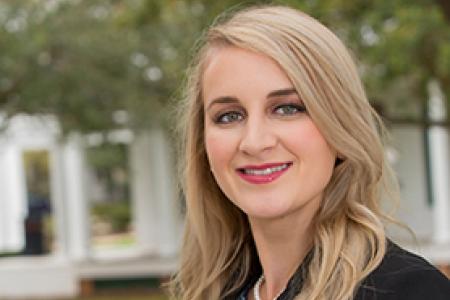 3rd Year
Undergrad
Florida State University
Area of Interest
Estate Planning, Wills and Trusts
What advice would you offer to a new incoming 1L law student?
First, I would tell them to relax and to do some of the things they enjoy before coming to law school. Next, I would tell them to make sure to buy a planner to schedule their time and to efficiently manage their time when law school starts. Law school is absolutely manageable if you give yourself enough time to do work each day. I would also explain that students should find hobbies or some type of extracurricular activity to interact with your peers in a less formal manner. For example, I participated in Powderpuff football this year. It gave me an opportunity to go outside and play ball during the semester, but also to meet people and really enjoy being around my peers.
What has been your favorite course or who has been your favorite professor since starting your legal education? 
Property was probably my favorite course in my first semester. I loved the way Professor Ryan set up the class and even the way that she facilitated class. She used the Socratic method, which is common, but she made sure that if you didn't know how to answer a question, she would be able to help you formulate a way of thinking about the question. I also enjoyed the general theme of Property. My favorite professor thus far is likely Professor Blenkhorn for Legal Writing. She is extremely friendly and willing to help in any way she can. She also enjoys hearing about our class pets, and considering that I have a dog, we always have great conversations outside of class.
Which College of Law student organization stands out to you? 
Women's Law Symposium (WLS) is the organization that has stood out to me the most. As soon as I became a member, their officers were putting together lists of mentors at the law school as well as in the Tallahassee community so that we could network and meet people in our fields of interest. My mentor works at the Attorney General's office and has been so helpful. We go to dinner or coffee together to chat, and she gives me advice on jobs and on law school in general. WLS also donates money to nonprofit organizations like Legal Aid, which I truly appreciate.
What makes our alumni network special?
The alumni network at FSU College of Law is absolutely incredible. Alumni give back each year to ensure that future students have the opportunity to learn about the law and have even better academic experiences than they did. The alumni network is also special because of their willingness to personally help current FSU students. For example, I reached out to the Fifth Circuit Court of Florida for a judicial externship and the head administrative judge for the Circuit is an FSU alum. She was truly excited for me to come work for their court over the summer and has been wonderful in the administrative process. Students are able to get many opportunities from networking with alums and most law schools don't have this connection with their alumni network. For that, I am truly grateful.
What is your favorite Tallahassee recommendation?
I have two recommendations for Tallahassee. My first is Perky Petz. I take my dog Theodore twice a week to there. It's like a daycare but for pets. My dog goes and plays during the day so that I don't feel bad leaving him at home by himself. It has been a wonderful addition to my weekly routine and for him to get plenty of exercise. Second, I absolutely love Lucky Goat Coffee. They have several locations now and they brew the most delicious coffee. They also sell cold brew by the gallon (which I find extremely useful during finals).
Email
skm14d@my.fsu.edu