The Honorable Steven Leifman, an associate administrative judge for the Eleventh Judicial Circuit of Florida, received the Pardes Humanitarian Prize in Mental Health from the Brain & Behavior Research Foundation in New York. The prize is awarded annually to recognize individuals or organizations that are making a profound and lasting impact in advancing the understanding of mental health and improving the lives of people with mental illness and addiction disorders. Posted 11.7.18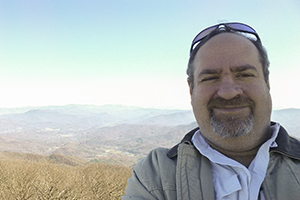 Lawrence M. Korn has spent the past 30 years "defending rights, protecting liberty, and wherever possible, sticking it to the man." He is senior assistant public defender at the Office of The Public Defender, Atlanta Judicial Circuit.
Posted 7.31.18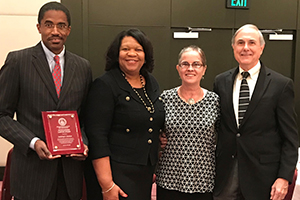 Lansing C. Scriven won the Hillsborough County Bar Association's Outstanding Lawyer Award. He is a shareholder at Trenam Law in their Tampa office. Scriven concentrates his practice in the area of business litigation, handling a diverse range of business disputes. 
Photo: (L-R) Lansing C. Scriven, the Honorable Mary S. Scriven ('87), the Honorable Claudia R. Isom ('75) and A. Woodson Isom, Jr. ('75)
Posted 1.19.18
Richard H. McDuff joined Herrin Health Law, P.C. in Seneca, SC as counsel. He represents health care systems and providers in South Carolina and Florida in a variety of matters. The firm also represents health care clients throughout the Southeast. Posted 12.7.17
The Honorable Gerardo Castiello retired as a judge of compensation claims in Miami. Posted 11.21.17
Major Meredith Charbula was sworn in as a Duval County Court judge on November 1 after being appointed by Governor Rick Scott. Posted 11.14.17
The Honorable J. Layne Smith, of the Second Judicial Circuit, organized and conducted two driver's license clinics to help Leon County residents regain their driving privileges. Posted 9.27.17

Susan S. Erdelyi, a shareholder at Marks Gray, P.A. in Jacksonville, was recognized as one of the 2018 Best Lawyers in America. She also was selected as a 2017 Florida Super Lawyer. Her practice is focused on employment and civil rights. Posted 8.21.17
title-inside title-centered
2