The Career Services Center often advises students to consult with one of our J.D. Advisors. We have an arrangement with a number of attorneys from a variety of practice areas and geographic regions who our students can call upon for advice on the field they are interested in and discuss how best to position themselves for a job in this practice area. The staff at the Career Services Center will direct you to the appropriate J.D. Advisor to help you achieve your career goals.
On-Campus Interviews
One of the most effective ways employers recruit our students is through our fall and spring On-Campus Interview (OCI) programs. OCI provides legal employers the opportunity to interview law students for full-time and part-time law clerk, intern or associate positions. Students may view participating employers, submit their resumes and sign up for interview times through their Symplicity accounts.
The Career Services Center uses an online software system called Symplicity for a variety of services. Students are able to search for part-time and summer employment opportunities. Graduating students and alumni are also able to search for full-time employment. Job listings are continually updated. If you have forgotten your login information, or need individual assistance with Symplicity, please visit or contact the Career Services Center.
Alumni who agree to be Career Mentors are a valuable asset to Florida State University College of Law students. Career Mentors make themselves available to students and recent graduates to answer questions about job search strategies, networking and breaking into markets, whether that be practice areas or location.
Career Search Survival Guide
The Career Search Survival Guide is designed to provide an introduction to the many services provided by the Career Services and Professional Development Center at Florida State University College of Law. It is intended to be a collection of information to assist you with the many phases of a job search.
Copies of the Career Search Survival Guide are available in the Career Services Center.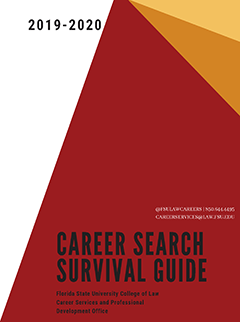 title-inside title-centered
2