The Career Services Office assists law students and alumni in all aspects of their job search, offering individualized career counseling. Sometimes this means helping students identify and articulate what specific areas of law or types of employment they are interested in. Other times it means working with students who know what they want to do but need help to develop a creative and effective strategy for reaching their goal. Career Services also assists alumni in finding lateral positions. To make an appointment with the assistant dean, program manager or J.D. advisor, please call 850.644.4495.
In addition to advising and counseling, the Career Services Office offers various other services and events to assist students with their networking and job search goals. Please contact the Career Services and Professional Development Office if you are interested in participating in any of the services listed below.
Food for Thought
The purpose of these luncheons is to connect working professionals with students. The small intimate environment of Food for Thought luncheons fosters networking. If an on-campus visit is not an option for you, we are happy to coordinate a virtual event.
Previous participants have included: Captain Dave Johnson - U.S. Army Trial Defense Service; Bill Dillon and Steve Grigas ('93) - Health Law Section of The Florida Bar; Captain Andom T. Gherezghiher - U.S. Marine Corp Officer Selection Team; Elizabeth "Bib" Willis ('87) - Retired lobbyist and Legal Aid Foundation; Administrative Magistrate Amanda Wall, Second Judicial Circuit of Florida; Frank Sheppard ('84) and Brett Carey ('11) - Rumberger Kirk & Caldwell; Damon Kitchen - Constangy, Brooks, Smith & Prophete, LLP; Stephen Meck ('80) - Carson & Adkins; Patrick F. Martin ('93) - Greenberg Traurig; Rick Johnson ('90) - Law Offfices of Rick Johnson; Tom Brooks ('75) - Meyer, Brooks, Demma and Blohm, PA; Cecile Scoon - Peters & Scoon; Administrative Law Judge Gregg Morton - Florida Public Employees Relation Commission; Cristina A. Velez - Reemployment Assistance Appeals Commission; Cheyanne Costilla ('03) - Florida Commission on Human Relations.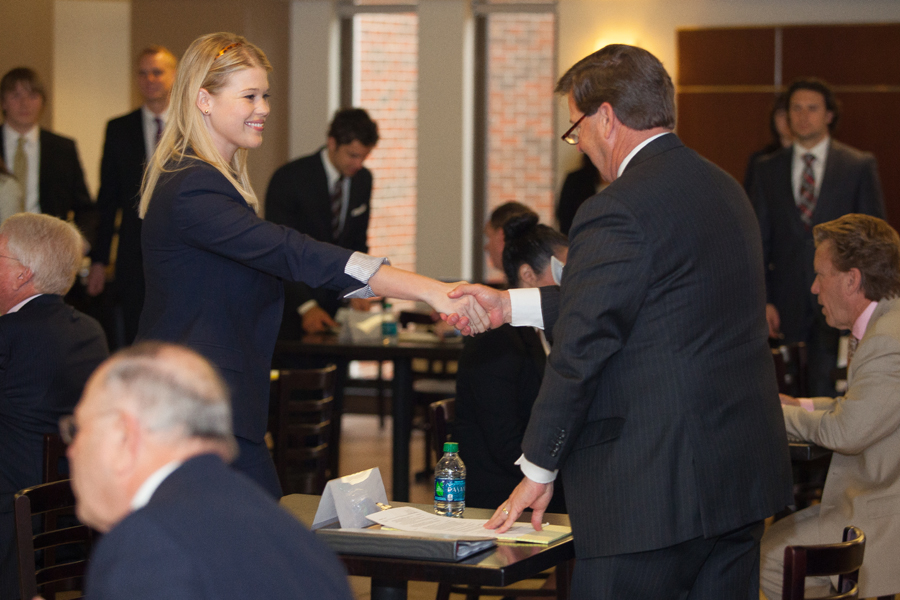 Mach Speed Mock Interview
This interviewing program applies the concepts of speed dating to the task of job preparation. Students wait in lines with resumes in hand and interview with attorneys for several minutes, then students are critiqued. After the critique students change interviewers. The mock interviews evaluate students on their resume, appearance, eye contact and oral communication skills.
Many College of Law alumni volunteered to serve as mock interviewers for this event in the past, including William W. Corry with the Law Office of Corry & Kennedy; Benjamin L. Crump with Parks & Crump, LLC; Lawrence N. Curtin with Holland & Knight; Victoria L. Weber with Hopping Green & Sams, P.A.; Joseph W. Lawrence, II with Vezina, Lawrence & Piscitelli; Charles F. Tunnicliff with the Florida Department of Business & Professional Regulation; and R. Mark Williamson with Alston & Bird.
Speakers, Seminars and Workshops
Each semester, the Career Services Office hosts an array of speakers, seminars and workshops designed to assist students in various aspects of the job search. Whether students are looking for tips on how to create a more effective resume or simply want to learn more about a particular job, our office is here to inform and assist them with a variety of current and cutting-edge programming events.
In the past, the office has hosted Barry Richard - Shareholder, Greenberg Traurig; Jason Feldman - President Direct to Consumer, Hanes Brands; Ben Odom - Associate General Counsel & Director of Compliance, International Speedway Corporation; Mark O'Bryant - President & CEO, Tallahassee Memorial HealthCare; Honorable Mark E. Walker and Honorable Margaret Catharine "Casey" Rodgers - U.S District Court for the Northern District of Florida.