Alexander "Alex" S. Douglas II, Esq., has been named to the advisory board of the Professional Fiduciary Council of Florida. Douglas practices in the areas of fiduciary litigation, with extensive experience in trust and probate litigation and contested guardianship cases. Posted 9.15.23
Alexander "Alex" S. Douglas II, Esq., has been selected as a 2023 Florida Super Lawyer. Douglas practices in the areas of fiduciary and commercial litigation, with extensive experience in trust, probate and guardianship litigation. Super Lawyers, owned by Thomson Reuters, recognizes attorneys who have distinguished themselves in their legal practice. The selection process is multi-phased and rigorous. Peer nominations and evaluations are combined with third-party research and validation of the attorney's professional accomplishments. The final published list represents five percent of the total lawyers in the state of Florida. Posted 7.10.23
Anita Clark has retired from Terrell Hogan, PA after 31.5 years with the firm. Posted 1.13.22
Jack C. McElroy has been named Shutts & Bowen LLP's firm-wide managing partner. McElroy is a commercial litigation partner in the firm's Orlando office. Posted 7.15.21

Alan Abramowitz has been named State Director of the Year by the National Court Appointed Special Advocate/Guardian Ad Litem (CASA/GAL) Association for Children. Abramowitz received the award at the organization's virtual Awards of Excellence program on October 21, 2020. He is the executive director of the State of Florida Guardian ad Litem Program. Posted 11.3.20

Scott Patterson is in-house counsel with Zurich North America in Chicago, Illinois. Posted 6.17.20

Shelley G. Reynolds was presented a Florida Bar pro bono award at the Supreme Court of Florida on January 30. Reynolds has her own practice in Pensacola and also works with Legal Services of North Florida on domestic violence cases and child delinquency cases. Posted 1.30.20 

Colonel Steven P. Hester retired from the U.S. Army Reserve after 30 years of service. In his civilian capacity, he remains with the Navy Office of General Counsel, and effective September 2019, he joined the Naval Information Warfare Center Atlantic in Charleston, South Carolina, where he serves as associate counsel (labor). Effective December 2019, Hester was certified as a Department of Navy alternative dispute resolution mediator. Posted 1.15.19

Stephen R. Senn began his term as the first vice president of The Florida Bar Foundation's board of directors on July 1, 2019. He began serving on the board in 2012 and is currently the chair of the investment committee. Senn is a senior shareholder at Peterson & Myers, P.A. in Lakeland. He has a broad-based litigation practice, which includes appeals, complex litigation, employment disputes, and commercial and business litigation. Posted 7.30.19

Stephen R. Senn was recognized with The Florida Bar Foundation's 2019 President's Award for Excellence for his steady and dependable leadership and his willingness to go above and beyond his duties to ensure seamless transitions. Senn is a senior shareholder at Peterson & Myers, P.A. in Lakeland. He has a broad-based litigation practice, which includes appeals, complex litigation, employment disputes, and commercial and business litigation. Posted 7.26.19

Douglas E. Starcher is now managing partner at Nelson Mullins Riley & Scarborough LLP in Orlando. His practice focuses on mergers and acquisitions, and he also leads the firm's Florida Corporate and Finance Team. Posted 4.17.19

Stephen R. Senn is a 2018 recipient of The Florida Bar President's Pro Bono Service Award. The award is presented to one lawyer in each of Florida's 20 judicial circuits and one out-of-state lawyer. Senn is a senior shareholder at Peterson & Myers, P.A. in Lakeland. He has a broad-based litigation practice, which includes appeals, complex litigation, employment disputes, and commercial and business litigation. Posted 1.25.18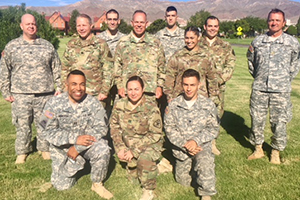 Colonel Steven P. Hester assumed command of the U.S. Army Reserve Legal Command's 128th Legal Operations Detachment, headquartered in Mustang, OK, with Legal Operations Teams stationed in Little Rock, AR; Tulsa, OK; and Fort Bliss in El Paso, TX. He previously served as the staff judge advocate for the 377th Theater Sustainment Command, headquartered at Naval Air Station Joint Reserve Base New Orleans.
Photo: Colonel Hester (middle row, third from the left) visited Fort Bliss in August 2017.
Posted 12.13.17
 
William D. Anderson is a yoga instructor at Journeys in Yoga in Tallahassee. 
Submitted entry:
"Mr. Anderson never made partner. He has rocked every boat in which he ever sailed and bitten every hand that tried to feed him. His resume reads like a police blotter. In spite of this, or perhaps because of it, he is by far the happiest person he knows. He can be reached on his yoga mat, or atfightclubbuddha@gmail.com." 
Posted 12.7.17

Pablo Meles is now of counsel at Espinosa Martinez Law in Miami. The firm focuses in patent, trademark, copyright and other intellectual property litigation and prosecution. Posted 10.5.17