Stephen R. Senn is a 2018 recipient of The Florida Bar President's Pro Bono Service Award. The award is presented to one lawyer in each of Florida's 20 judicial circuits and one out-of-state lawyer. Senn is a senior shareholder at Peterson & Myers, P.A. in Lakeland. He has a broad-based litigation practice, which includes appeals, complex litigation, employment disputes, and commercial and business litigation. Posted 1.25.18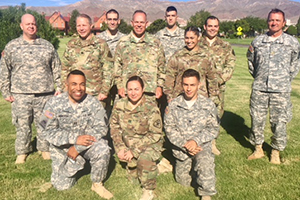 Colonel Steven P. Hester assumed command of the U.S. Army Reserve Legal Command's 128th Legal Operations Detachment, headquartered in Mustang, OK, with Legal Operations Teams stationed in Little Rock, AR; Tulsa, OK; and Fort Bliss in El Paso, TX. He previously served as the staff judge advocate for the 377th Theater Sustainment Command, headquartered at Naval Air Station Joint Reserve Base New Orleans.  
Photo: Colonel Hester (middle row, third from the left) visited Fort Bliss in August 2017.
Posted 12.13.17
 
William D. Anderson is a yoga instructor at Journeys in Yoga in Tallahassee. 
Submitted entry:
"Mr. Anderson never made partner. He has rocked every boat in which he ever sailed and bitten every hand that tried to feed him. His resume reads like a police blotter. In spite of this, or perhaps because of it, he is by far the happiest person he knows. He can be reached on his yoga mat, or atfightclubbuddha@gmail.com." 
Posted 12.7.17

Pablo Meles is now of counsel at Espinosa Martinez Law in Miami. The firm focuses in patent, trademark, copyright and other intellectual property litigation and prosecution. Posted 10.5.17
title-inside title-centered
2