John Thrasher
Image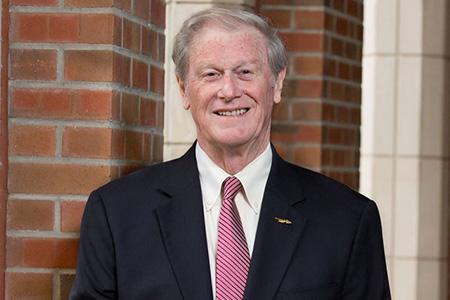 Position
President Emeritus
Contact Information
Florida State University
College of Law
Rotunda, Room R201
Phone: 904.607.2226
jet@jthrasher.com
Florida State University President Emeritus John Thrasher has joined the College of Law faculty. He previously served as Florida State University's 15th president from 2014-2021.
As president, Thrasher focused his efforts on elevating FSU's reputation as a preeminent research institution and led the university to recognition as one of the nation's Top 20 public universities. In addition, he presided over a $1 billion fundraising campaign, advanced the university's academic and research mission, championed diversity and inclusion, and welcomed some of the best and brightest students in the university's history. 
In addition to his tenure as president, Thrasher has had a successful career as a businessman, lawyer, lobbyist, and state legislator. Among his many achievements, Thrasher served as the 90th speaker of the Florida House of Representatives and was instrumental in the passage of significant criminal justice legislation. He also worked in private practice and served as general counsel of the Florida Medical Association for two decades.
Thrasher earned his bachelor's degree in business from FSU in 1965. After graduating, he joined the U.S. Army, where he received the Army Commendation Medal in Germany and was awarded two Bronze Stars for his service in Vietnam. After he was honorably discharged as a captain in 1970, Thrasher returned to FSU, earning his law degree with honors in 1972.