Edmond E. Koester ('96)
Dedicated Innovator and Adventurer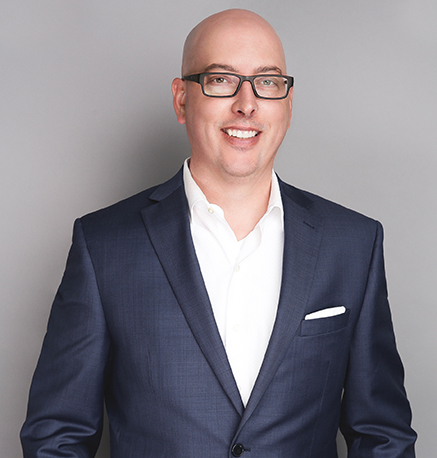 As a shareholder at Coleman Yovanovich Koester in Naples, Edmond E. Koester handles high-end litigation matters, ranging from complex antitrust to construction defect cases and anything in between. At any given time, he has between 60 and 120 pending cases.
"I specialize in trying cases, in being very organized and in being very careful, passionate and loving to win for my clients," said Koester. "If you look at any of my cases, whether it's the recent trial in Orlando involving a surgeon and patent litigation and licensing litigation, I'm all in. I learn absolutely everything I can about the orthopedic products we're talking about. I learn everything about the FDA's role in what we're doing. I learn everything about the business. I hire top-quality experts. I build a good team with the plan of really winning."
Koester handles each case with a very specialized, careful approach – sometimes hiring lobbyists to affect change, sometimes addressing issues directly with regulatory bodies and sometimes relying only on litigation in the courtroom. Years ago, he even went so far as to take the Montana Bar Exam to become a member of the State Bar of Montana since the state does not allow traditional pro hac vice motions and one of his clients had a case there. "I got a nice ruling from the Montana Supreme Court on an employment case," remarked Koester.
Koester has been with private firms since graduating in 1996 and joined his current firm in 2002 so he could run his own litigation practice. A defining component of Koester's practice is his use of innovative technology to display evidence quickly and to earn credibility.
Koester said having all of the video depositions, the documents and the text of evidence instantaneously available allows him to show a judge a particular portion of a case that supports his argument on a big screen and the ability to impeach a witness without any delay.
"Jurors and judges expect when their time is being taken, that the person before them is going to be infinitely prepared to not waste their time and they do not like to trust people as much as they like to trust fact," he said.
Koester's passion for harnessing technology began when he was a young lawyer. "I always wanted to win. I read a lot of books on persuasion, on human nature and on psychology. It seemed to me, the only way to effectively persuade somebody was to show repetition of truth and to do it quickly, and technology was the only way to achieve that," Koester said. "So then I spent a huge amount of time learning about computers, learning about Bluetooth bar code guns, learning about tablets, and practicing how I could be in the courtroom naturally without being tethered to my computer and using the computer so that the jury and judge would not be distracted."
In addition to utilizing high-quality technology, Koester also prides himself on honest lawyering and working hard to end up on the victorious side of cases. A significant amount of Koester's time is spent in his firm's "war room," strategizing with his team on big white boards. He works hard to develop the associates at his firm so that they may thrive and carry on his high-quality practice when he one day retires. He also takes phone calls from younger lawyers outside of the firm who have questions about ethics and practicing as a way to reciprocate what was done for him.
Koester enjoys helping people and cares deeply about his clients. "Meeting and interacting with all of my wonderful clients and hearing their life stories and helping them in their time of need is very nice to be part of. Many of my clients have become my best friends. They are wonderful people."
His approach to lawyering has resulted in a great deal of repeat business. In addition to litigating, Koester also serves as general counsel to large businesses. In all instances, he earned that role after representing them well on their litigation matters.
Away from the office, Koester approaches the rest of his life with the same energy and dedication to excellence that he applies at work.
"I want the absolute, every little bit I can get out of life," Koester said. "I love adventure, I love anything that helps change your perspective, helps broaden you and helps you feel life." 
He is an avid reader, especially enjoying written works about past presidents, evolution, science and human nature. Koester also combines his passions for adventure and fitness by competing in triathlons and mountain biking. Staying fit and reading help him remain mentally sharp, which Koester believes is important for his practice and in being a good familial leader.
His family includes his son Carter, who is a high school junior, his daughter Sloan, who attends Coastal Carolina University, and his long-term girlfriend of seven years, Taber Tagliasacchi. Their adventures include visiting Patagonia and camping along the Inca Trail in Peru. Koester's favorite place on Earth is his home in his birth state of Michigan, where the family boats, kayaks, mountain bikes and skis.
Koester still spends time with retired attorney and judge Bill Crane – the man who inspired him to be a lawyer when he was growing up in Saginaw, Mich.
"I wanted to be a lawyer since I was about nine years old, because my best friend's dad was a lawyer and I spent a lot of time with their family and I saw him in court many times," said Koester. "He also was an avid supporter of politics and we stuffed envelopes for candidates and those sorts of things, and it stuck with me. He and his wife spend every February here with me at my house in Naples. He is the singular reason I'm a lawyer."
Koester also credits Crane with having the most energy of anyone he has ever met. Undoubtedly, there are others who feel the same way about Koester and the energy he devotes to his clients and living life to the fullest. 
As printed in the 2018 issue of Florida State Law magazine.