Alum Jeff Stoops ('84)
Going Global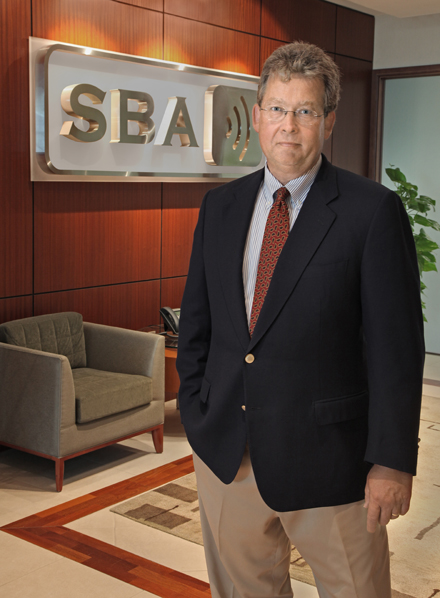 Since taking the helm as President and Chief Executive Officer of SBA Communications Corporation more than a decade ago, Jeff Stoops has steered the Boca Raton-based company to new heights. When Stoops left his partnership and varied corporate law practice at Gunster to join SBA, the company owned no cell towers but was looking to get into the business.
Now, SBA owns and operates more than 22,000 cell phone towers across the United States and in Canada, Central America and South America, with more than 1,500 employees. In addition to growing the company's footprint, Stoops also has increased its worth. SBA currently is the sixth most valuable public company in Florida, with a value exceeding $22 billion.
"We're the most valuable public company in Florida that no one has ever heard of," joked Stoops, a 1984 law graduate.
Stoops' relationship with SBA began by chance. SBA founder Steve Bernstein hired Gunster to help him evaluate a possible merger. "I got the phone call – and there were a number of corporate partners at Gunster, so it could have gone to any one of us. It happened to come to me and I met Steve Bernstein. We began what has turned out to be a wonderful relationship and partnership. I helped him figure out that what he was being offered wasn't a very good deal."
One of Stoops' first priorities during the early stages of his relationship with SBA was helping the company raise $30 million for its initial private placement.
"I was brought in to begin our transition to tower ownership," said Stoops. "Before I joined the company, the company didn't own any towers. I was brought in to transition the company to the company that it is today – primarily an asset-based company. When I joined we were exclusively a services company. There was no tower ownership industry, so I've had the fun and excitement to be at the start of and help shape an industry."
As a cell tower owner and operator, SBA can increase shareholder value two ways – by adding cell service tenants to a tower or by adding towers.
"As we continued to grow in the United States, we saw a point in time where we would likely run out of enough opportunities to grow our tower portfolio exclusively in the U.S. to the magnitude we wanted," said Stoops. "We decided that we would expand our horizons and take the business outside the United States. Operationally, the business of cell phone towers is pretty much the same around the world. We started in Canada in 2009 and then we went into Central America in 2010. At the end of 2012, we went into Brazil, which is already far and away our largest international market and one that we expect will be a big source of growth for years to come."
As SBA and Stoops have evolved together, Stoops' primary responsibility has become determining the company's strategic direction.
"My most important jobs today are setting strategy: deciding whether we are going to go into a new country, deciding whether we are going to go into a related line of business, deciding how much capital we allocate to our various business lines, helping my team do their jobs and also ensuring as best as I can that we have the best people in the best positions. I try not to get too far into the details. I like to hire good people and let them do their jobs."
Stoops believes his legal background provided him with skills essential for his current role. "We're heavily into finance and capital markets activities, so all my years as a corporate securities lawyer help me tremendously with new financings and in talking with investors. In addition, the tower business is very much a real estate business; it's heavily contractual, with mortgages, zoning, ground leases, etc. – all very legally intensive aspects. With the combination of the real estate aspects of our business and the financing needs of our business, I feel particularly well-suited to address those areas due to my legal background."
Since Stoops became CEO in 2002, SBA's stock has increased from about $13.50 per share to more than $112 per share.
"As a public company CEO my job involves so many different things, but at the end of the day the one thing that matters most is stock price performance. Since I took over as CEO, our stock has appreciated on average annually over 17 percent over a 13 year period, which makes us one of the top performing public companies in the country. We're pretty proud of that."
Stoops also takes pride in SBA's reputation. "One of the things that SBA is very much known for is being a company of high integrity. We have a great reputation in our industry, and have no regulatory or legal issues to speak of. We work hard to be a responsible company and we are just as proud of that as we are our share price appreciation."
In addition, Stoops stresses philanthropy at SBA. He encourages employees to be involved in the community and, every year, SBA aims to increase the amount of money that it gives back.
Stoops' philanthropic endeavors also extend outside of work. He sits on several local boards, and generously supports the FSU College of Law, FSU School of Social Work and Seminole Boosters, among other causes. He recently formed a private foundation with his wife, Aggie, and four children – 28-year-old Lauren, 25-year-old Andrew and 21-year-old twins Tim and Dan.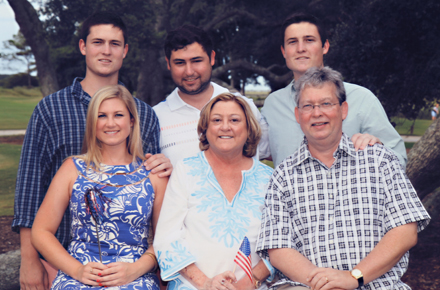 "We formed the Stoops Family Foundation, which currently gives to health-related and educational goals. This is something I hope that my children will become increasingly involved with. I think it is a great way to teach next generations about philanthropy and giving back. It's also a nice way for us to all continue to work together."
Aggie, who holds a bachelor's and a master's degree in social work from Florida State University, has been by Stoops' side for more than three decades. The couple met in 1980 as undergrads while living in Florida State's Cawthon Hall and were married in 1984. Less than a decade later, they were the parents of four children. Although his job has always kept him busy, Stoops and his wife still were able to enjoy traveling with their kids when they were growing up. The family has visited Africa for a safari, Europe, Alaska and Costa Rica, among other places.
The Stoops family also has a home in Kiawah Island, South Carolina – a barrier island that they have been visiting for about 20 years. "It is a remarkable place. There is a very dramatic tide there. The beaches stay very moist, so when the tide is out you can ride your bikes on the sand. When the tide is up, it's a very gradual drop into the ocean and there are very little waves there. For parents of young children it's a wonderful place because you're not worried about big waves and rip currents.
"Now it is such a part of our lives that we all look forward to going there for family get-togethers. We do Thanksgiving there every year and I invite my extended family from Delaware. Around July 4th, Aggie invites her family. These get-togethers have become a tradition over the years."
Stoops' family has always been at the forefront of his personal and professional decisions.
"When I finally made the decision to join SBA, I came home and told my wife I was leaving Gunster after 13 years, where I had started out as a first-year associate and worked my way up to partner. We'd just had twins so we had four young kids. In the initial shock of our decision, all Aggie could ask was, 'Do they have health insurance?' So thankfully they did and it's all turned out okay," joked Stoops.
"I consider myself a very lucky guy. I happened to take a risk on a business that was unproven at the time and it's turned out very well. I think I'm an example of what good things can happen when you step outside your comfort zone, take a risk and follow a dream. To get rewards in life, you have to take some risks."
As printed in the fall 2014 issue of Florida State Law magazine.