The Lasting Legacy of David Markell (1953-2021)
---
The Lasting Legacy of David Markell (1953-2021)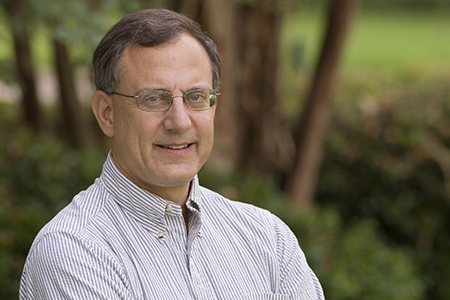 The FSU Law community was profoundly saddened by the loss of Professor Emeritus David L. Markell, who passed away on March 22, 2021, after a heroic battle with cancer. Although Markell retired from teaching in 2020 after 18 years at FSU, he remained actively engaged with many in our community and will be terribly missed.
"Dave was beloved for his kindness, generosity, hard work, inspired teaching, scholarly productivity, and service to the law school and broader community," said Dean Erin O'Connor. 
Markell grew up in Newark, Delaware. He graduated magna cum laude from Brandeis University and received his J.D. from the University of Virginia. Markell was an all-around athlete and played college and semipro baseball. After law school, Markell began his career with a prestigious judicial clerkship in his home state's Supreme Court and brief stints at two D.C. law firms. He then moved from corporate law to a career with the U.S. Environmental Protection Agency, the Environmental Enforcement Section of the U.S. Department of Justice, and leadership roles at the New York State Department of Environmental Conservation. Even after entering academia, he spent years engaged in environmental governance through his work with the North American Commission for Environmental Cooperation in Montreal.
Prior to joining the faculty at FSU, Markell taught at Albany Law School. Throughout his career he served as a visiting professor at Columbia Law School, University of Virginia School of Law, Lewis and Clark Law School, Melbourne Law School (Australia) and IDC Herzliya Radzyner Law School (Israel). 
"Dave Markell was an immensely talented individual, but his gifts paled in comparison with his herculean work ethic," said his environmental law colleague Shi-Ling Hsu, FSU Law D'Alemberte professor. "Dave worked hard at everything, all the time. Instinctively modest, he led by example, but that example was extraordinary." 
During his tenure at Florida State University, Markell served in numerous leadership positions, including as an associate dean in three capacities—for academic affairs, environmental programs and research. As a scholar, he was nationally recognized as one of the top in his field. During his career, Markell published six books and more than 50 articles and book chapters on topics including climate change, compliance and enforcement, and North American environmental law and policy. One of his books was cited as "the most outstanding work of legal scholarship in the field" of administrative law and earned an annual American Bar Association Section award for scholarship. There is no doubt that his presence on the faculty was a big reason that the environmental law program has been highly regarded for so long. people, like educational facilities or children's hospitals.
"Dave was so humble and unassuming that I'm not sure everyone took note of the scholarly impact of his research and writing," said Professor Emeritus Donna Christie, who served on the environmental law faculty with Markell for many years. "He just quietly and thoughtfully produced articles that were regularly chosen as among the best of the year in the annual, peer-reviewed Land Use and Environmental Law Review and books that garnered accolades. I was always impressed with his ability to engage scholars from around the country in his ideas and work. He published numerous co-authored pieces, and scholars around the country who worked with him on these articles and projects were duly impressed with his intellect and work ethic."
"Dave was a remarkable friend, colleague, family member and fellow citizen," said Erin Ryan, FSU Law Elizabeth C. & Clyde W. Atkinson professor and associate dean for environmental programs.  "He devoted himself professionally to the highest aspirations of the environmental field, and he succeeded in a career marked by both academic and real-world accomplishments. To his prolific career of scholarly writing, Dave also brought the gift of high-level practical experience." Markell also was instrumental in connecting FSU Law—particularly the environmental law program—with the practicing profession. Markell wrote regular newsletter columns for The Florida Bar's Administrative Law and Environmental and Land Use Law sections to promote the law school's environmental programs, students, alumni and professors. He also engaged often with alumni and other attorneys and judges to spread the word about the achievements of FSU Law's programs and students. "I so enjoyed getting to know Dave through Environmental Law Society 'meet and greets' and I think the law school should be so proud of the outreach he continually made to the local legal community to engage with the students," said Susan L. Stephens ('93), FSU Law adjunct professor and attorney at Hopping Green & Sams, P.A.
Equally admirable was Markell's tireless commitment to help his current and former students. His high expectations, coupled with his patient and nurturing mentorship, gave countless FSU Law students the confidence and the courage to be the very best lawyers they could be. "Dave was one of the most popular teachers at the law school," said Dean  Emeritus Donald J. Weidner. "Even in extremely difficult courses to teach, like Legislation and Regulation, the students gave him rave reviews. And, though he taught many more students than most faculty, he took the time to integrate role-playing assignments into virtually all his courses."
In addition to being a revered teacher, Markell helped multiple graduating students secure jobs in the environmental field. Moreover, while serving as the Steven M. Goldstein Professor, he regularly reached out to connect with students who were Goldstein scholars so that they would know more about Professor Goldstein and the values that drove his life and career in law. "Dave admirably filled both the spirit and the intent of the Goldstein professorship by bringing a wide variety of environmental law experts to the school to stimulate student interest in the field," noted Professor Emeritus Charles W. Ehrhardt.
Every member of the FSU Law community who worked with Markell felt his kindness and generosity. He was welcoming to everyone and genuinely cared about his colleagues, students and the administrative team. He was never too busy to ask how someone's family was (and to listen with genuine interest to their reply) or to give advice to a student about their professional endeavors. As his colleague Wayne Logan, the FSU Law Steven M. Goldstein professor related, "Dave Markell truly embodied what it means to be a dedicated teacher and public-spirited legal scholar. But more than that, Dave was a truly fantastic person."
Markell was also an active volunteer within the Tallahassee Jewish community. He launched and ran for many years the Tallahassee Jewish Federation Teen Philanthropy Initiative (with support from the Rintels Foundation), a program that empowers teens to identify and address community needs, both locally and in Israel.
In addition, Markell was extremely devoted to his family. Markell's wife Mona and their three daughters, Rebecca, Jenny and Rachel, were the light of his life. He coached the girls' teams and cheered at their concerts and performances.
"Dave impressed me most by simply being one of the finest people I have ever known. Kind, thoughtful, caring, respectful of students and colleagues—I could make a list of noble characteristics that would fill a page. All of us who knew him are better for it," said Professor Emeritus Christie.
"Dave's remarkable career speaks for itself," said Nat Stern, the FSU Law John W. & Ashley E. Frost professor. "Still, what I'll always cherish most is the inspiration of his magnificent character. Dave made all of us better by the example of his endless kindness, devotion, dedication, generosity and profound humanity."
As summed up by Professor Ryan, "I'm not sure a more decent man has ever walked the earth. I know I join everyone in the wider FSU and environmental community in feelings of profound loss and grief at his passing. The world is indeed smaller, and sadder, without him."
As printed in the 2021 issue of Florida State Law magazine.