Thomas J. Spulak ('82)
Dedicated Innovator and Adventurer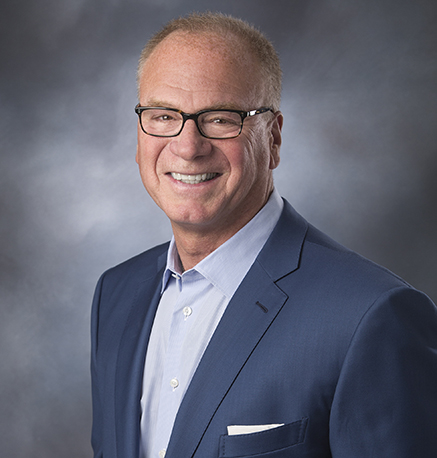 Washington, D.C. attorney Thomas Spulak ('82) began developing his expertise in government advocacy well before law school. During his formative years and in college, Spulak came to the realization that not everyone was protected equally.
By the time he graduated with his B.A. from the University of Miami, he had worked for two summers at the Dade County Manager's Office and was interested in government as a way to protect people on a broad scope. With a yearning to help more people, Spulak took a job working for U.S. Congressman Claude Pepper in Miami after graduation.
"My job there was in constituent service and I liked it, but I was frustrated because people who were less able to take care of themselves were having more difficulty getting from the government what they were entitled than people who were well off or who could hire a lawyer," Spulak said. "At that point, I said, 'I'm going to go to law school and be more directly involved.'"
Spulak naturally ended up in Florida's capital city for law school and was able to take advantage of his location. He continued building an impressive resume during law school, working for a federal bankruptcy judge and also for a Florida senator who was chairman of the reapportionment committee during the 1982 redistricting process. 
After graduation, Spulak ran Congressman Pepper's re-election campaign while studying for and passing the bar exam. He had been practicing at a criminal defense firm in Miami for about six weeks when he received an offer too good to deny – a job as an attorney for the U.S. House Rules Committee in Washington D.C. Spulak has worked in the nation's capital ever since. His experience includes serving as general counsel and staff director for the rules committee, practicing at Shaw Pittman, and serving as general counsel for the U.S. House of Representatives. In each position, he was able to work on meaningful policy to improve lives.
For the past 13 years, Spulak has been a partner at King & Spalding. His practice allows him to stay connected to Congress by representing corporate clients who interact with governmental entities. Much of his practice is devoted to counseling Fortune 50 companies on strategy and how to abide by the many regulations that govern lobbyists and donors. This includes issues related to ethics, election law and campaign finance. For his foreign clients, Spulak also counsels them on complying with the Foreign Agent Registration Act. Because his clients operate in many different jurisdictions, Spulak also spends a great deal of time monitoring changes in state laws. Spulak does not spend as much time lobbying as he once did, but he leads his firm's Government Advocacy & Public Policy practice and remains involved in lobbying efforts on behalf of a handful of clients.
"I am extremely fortunate to be in the position I am and to have the practice I have. At this point in my career, I'm able to really combine everything that I've done and seen," said Spulak, who has represented some clients for more than 20 years. "Because I do have a back ground in lobbying, I find that helpful to me in my practice. If a client says, 'Can we do this?' the real value that a lawyer brings if the answer is no is to be able to say, 'But you can do it this way.'" 
Drawing on his experiences working in Congress, lobbying and now being a counselor, Spulak is able to problem solve and provide the framework fo raction. "If all you did was understand the law, but not understand in practice what a client is trying to achieve, you wouldn't be as useful," he said.
As a group leader at his worldwide firm, Spulak also manages a team of approximately 25 lawyers and government affairs professionals. "I find that to be extremely rewarding," he said. "My biggest goal in that role is to earn and retain the respect of my partners and also of the people on my team. It forces me to stay on my toes and stay on top of the issues that are important to the firm."
Spulak credits FSU Law with providing him many opportunities that ultimately led to his practice at King & Spaulding. He also attributes his marriage to studying at Florida State.
"So many good things happened to me because of going to Florida State and one of them was meeting my wife when I was in my last year of law school," Spulak said about his wife, Patti. "She was in her last year of undergraduate. I met her through a classmate and we had a blind date. It was the first week of school in September 1981 and we've been together ever since."
The Spulaks have three adult children. Mary, age 24, graduated from the University of Virginia and is a banker at Morgan Stanley in New York City. They also have 21-year-old twins, John and Sarah, who are seniors at the University of Colorado Boulder and University of Miami, respectively.
In his spare time, Spulak enjoys golfing, playing the guitar and crossword puzzles. He also is devoted to non-profit service. Spulak is chairman and president of the Claude Pepper Foundation and chairman of the Hospice Foundation of America, which aims to increase knowledge about hospice, end-of-life and grief care.
"We work very closely with Florida State," Spulak said about the Claude Pepper Foundation. "We've given Florida State – either ourselves or through the matching program – over $10 million. There is the Pepper Institute, which is in the Department of Social Sciences, there is the Pepper Center, there is a wonderful building that houses the Claude Pepper Museum and all of his papers that are used nationally and internationally for scholarly research. We feel like not only are we making a great contribution to Florida State, but also to the people who are served by the professors and others who do great work and research."
Remaining involved in the university keeps Spulak connected to Florida,where he always thought he would return to practice.
"My blessing is my curse," joked Spulak about the fact that he will likely never again practice in his home state. "By building my practice such that it is, which I am very happy for, the only place where you can do it is from Washington. I developed a practice that I always wanted to have. It is a blessing."
As printed in the 2018 issue of Florida State Law magazine.