November 17, 2023, 12-1 p.m.
Major Steve Szymanski ('08) will provide an overview on the law and policy related to the emerging commercial data brokerage market and its intersection with national security, privacy, and civil liberties. He will provide an overview of proposed legislation, "The Fourth Amendment is Not For Sale Act," and efforts by the United States government and Department of Defense to use commercially available data for national security purposes while providing appropriate safeguards for privacy.
View the recording of this event.
---
Featured Speaker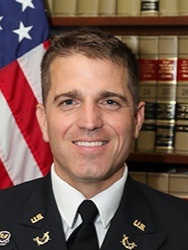 Major Steve Szymanski ('08) is chief of intelligence and cyber law in the U.S. Army Office of the Judge Advocate General, National Security Law Division. He previously has advised commanders on the full spectrum of legal disciplines in garrison and operational environments. His experience also includes serving as an assistant professor and National Security Law course director in the United States Military Academy Department of Law at West Point and as deputy staff judge advocate, joint special operations command at Fort Bragg. In addition to earning his J.D. from FSU Law, Major Szymanski earned an LL.M. in national security law from Georgetown University and an LL.M. in military law from the Judge Advocate General's School.