2019 Donald J. Weidner Summer for Undergraduates Program
---
2019 Donald J. Weidner Summer for Undergraduates Program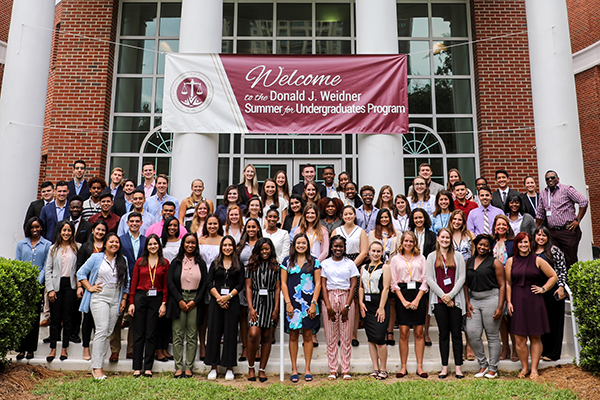 Earlier this month, FSU Law welcomed 60 extremely bright, enthusiastic undergraduate students to campus for the 2019 Donald J. Weidner Summer for Undergraduates Program. The students attend a wide variety of institutions around the nation.
The College of Law's award-winning, four-week program is designed to acquaint students with the study of law and to assist them in acquiring skills that will benefit their undergraduate and future law school studies. Students are attending daily legal writing and law classes and meeting with prominent lawyers and judges to hear about opportunities in the legal profession.
Since the program's opening session on Wednesday, June 12, participants have already attended sessions at the Florida Supreme Court with alumnus Justice C. Alan Lawson ('87), at the Florida Capitol with program benefactor and alumnus Wayne Hogan ('72) and alumna Pamela Burch Fort ('77), and at the College of Law with alumna Judge Nina Ashenafi Richardson ('91). During their remaining time at FSU Law, students will attend sessions with additional FSU Law alumni, including Rebecca Bandy ('05), Benjamin Crump ('95), Judge Raymond Gross ('72), Shenika "Nik" Harris ('04), Kenneth Lawson ('91) and Thomas Warren ('74). 
Another enriching component of the program is presentations by law school administrators and professors on topics including the admissions process, networking, the LSAT, interviewing, career options and much more. In addition, students will present moot court oral arguments and take a final exam.
Special thanks to Wayne Hogan and his wife, Patricia, for their generous support of the program, which allows 60 students to attend each year, free of charge. 
Published on June 26, 2019