FSU Law Clinic Hosts Elder Law Competition
---
FSU Law Clinic Hosts Elder Law Competition
Press Date
November 9, 2023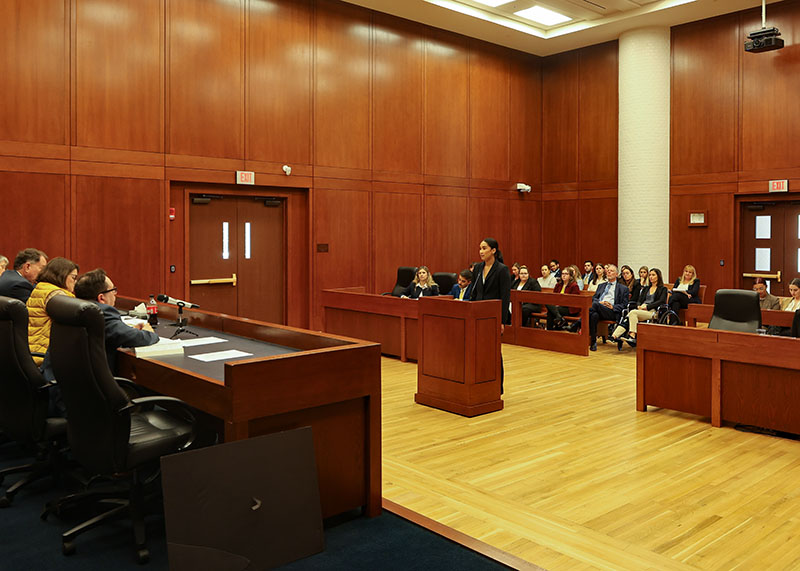 Last week, FSU Law's Claude Pepper Elder Law Clinic hosted its inaugural Elder Law Moot Court Competition at the College of Law. Teams from George Washington University, Mercer University, Baylor University, Florida International University, and Stetson University participated. The competition included five preliminary rounds before the semi-finals and finals. The team from Florida International University College of Law took home first place, and Stetson University College of Law placed second.
"It was so exciting to welcome teams from across the country to discuss major issues in aging policy right here on our campus," said Claude Pepper Elder Law Clinic Director Rima Nathan. "The arguments presented by the competitors were so impressive, and I am eager to see how the competitors contribute to the field of elder law in their future endeavors."
Attorneys, many of whom have elder law expertise, including alumni and FSU Law professors, served as judges for the competition. The event also included a talk by Dawn Carr, director of the Claude Pepper Center and professor of sociology, who spoke to the attendees about her research on resilience and the importance of healthy aging. Many thanks to Carr, the judges, and the teams for making the inaugural competition a great success!