Professor Sandy D'Alemberte Statue Relocation
---
Professor Sandy D'Alemberte Statue Relocation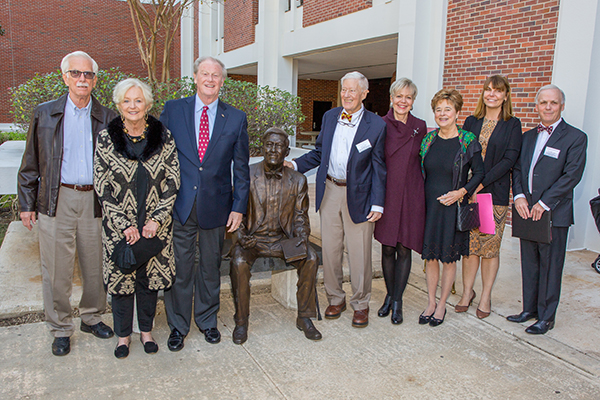 On Sunday, November 18, FSU Law honored President Emeritus, Dean Emeritus and Professor Sandy D'Alemberte during a statue relocation event at the law school. Joined by more than 100 of D'Alemberte's friends, colleagues and admirers, the College of Law paid tribute to him and unveiled the new location of his presidential statue. The bronze artwork is now prominently situated at the Jefferson Street entrance of the law school and overlooking the Center for the Advancement of Human Rights, which D'Alemberte established at FSU when he was president. During the event, FSU President John Thrasher (Dec. '72), former ABA President Martha Barnett and International Bar Association Executive Director Mark Ellis ('84) spoke about D'Alemberte's remarkable career as a fierce advocate, an innovative academic, a trailblazing leader and an international human rights visionary.
Photo: (L-R) Professor Chuck Ehrhardt, First Lady Jean Thrasher, President John Thrasher, President and Dean Emeritus Sandy D'Alemberte, Patsy Palmer, Martha Barnett, Dean Erin O'Connor and Mark Ellis.
You may find highlights of D'Alemberte's accomplishments and his impact on the FSU campus in an article and video on the FSU website.
Published on December 20, 2018