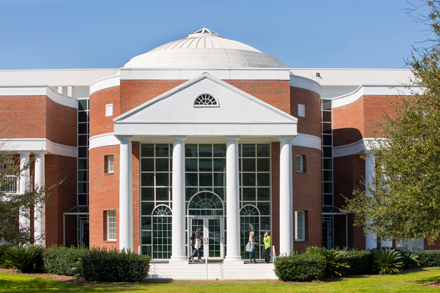 Our highly accomplished and accessible law faculty delivers a program that is designed to produce sophisticated entrants into the legal marketplace.
Alumni Network
Florida State's alumni network is truly superb, evidenced by our outstanding employment rates, extensive mentoring and alumni contribution rates. Hundreds of alumni visit campus each year to mentor and interview our students. Many additional alumni network via video conference.
---
Student Selectivity
Current students represent 38 U.S. states, 22 countries and 266 colleges and universities.
The 2019 entering class has a median LSAT of 160 and a median GPA of 3.73.
---
Student Successes
At a rate of 94.48%, FSU Law ranks among the nation's top law schools in terms of class of 2016 graduates who passed a bar examination in any jurisdiction within two years of graduating.
Florida State's graduates continue to excel on the Florida Bar Examination. Our bar passage rate for the two most recent administrations of the exam was 83.6%. By contrast, the overall passing rate for first-time test takers was 65.1%.
Since 2010, the Moot Court Team has won 1st place in 15 national competitions and in one international competition. In March 2019, they won 1st place in the 2019 William B. Bryant-Luke C. Moore Invitational Moot Court Competition. In March 2018, they won 1st place in the Seigenthaler-Sutherland Cup National First Amendment Moot Court Competition.
In November 2016, our Mock Trial Team won 1st place in the 2016 Buffalo-Niagara Mock Trial Competition. In the fall of 2015, the team won 1st place in two national competitions.
In 2018, our Black Law Students Association won 3rd place in the National Thurgood Marshall Mock Trial Competition. In 2015, they won 1st place in the National Frederick Douglass Moot Court Competition. Our BLSA has been named National Chapter of the Year four times since 2011.
In 2019, for the eighth time since 2008, Florida State's Student Bar Association received the National Achievement Award, which honors the best SBA in the nation, from the American Bar Association Law Student Division.
---
Professional Skills Training
Law students earn academic credit at our in-house, live-client Business Law Clinic, Children's Advocacy Clinic, Gender and Family Justice Clinic, Veterans Legal Clinic and Immigration Law Clinic. Clients in the Business Law Clinic are business and social entrepreneurs from across the Florida State University campus.
In our extensive clinical externship program, law students earn academic credit by working in one of 100+ outside law offices or courts. Placement areas include judicial, criminal, civil, legal services, appellate, business and international.
Our rich curriculum includes series of courses focused on litigation skills, transactional skills, legislative practice skills and administrative practice skills.
title-inside title-centered
2