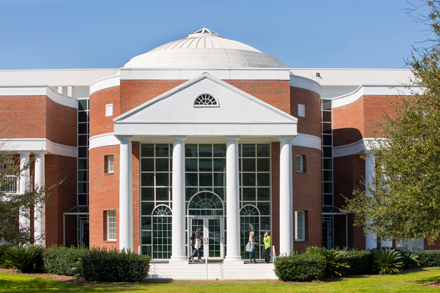 ​
Our highly accomplished and accessible law faculty delivers a program that is designed to produce sophisticated entrants into the legal marketplace.
Alumni Network
Florida State's alumni network is truly superb, evidenced by our outstanding employment rates, extensive mentoring and alumni contribution rates. Hundreds of alumni visit campus each year to mentor and interview our students. Many additional alumni network via video conference.
---
Student Selectivity
Current students represent 31 U.S. states, 40 countries, and 125 colleges & universities.
The 2023 entering class has a median LSAT of 165 and a median GPA of 3.85.
---
Student Successes
Florida State is ranked the nation's #18 law school for moot court. Our Moot Court Team and Trial Team consistently win national competitions and have been ranked among the nation's best advocacy teams.
In 2022, our Black Law Students Association won 1st place in the National Constance Baker Motley Mock Trial Competition. Our BLSA has been named National Chapter of the Year four times since 2011.
Florida State's Student Bar Association has received the Student Bar Association Award nine times. The American Bar Association Law Student Division award honors the best SBA in the nation.
---
Professional Skills Training
Law students earn academic credit at our in-house, live-client Business Law Clinic, Children's Advocacy Clinic, Children in Prison Project, Health Care Access Project, Human Trafficking and Exploitation Law Project, Immigration and Farmworker Project, International Human Rights Advocacy Clinic and Juvenile Solitary Confinement Project. Clients in the Business Law Clinic are business and social entrepreneurs from across the Florida State University campus.
Our Stoops Center of Law & Business, Center for Environmental, Energy and Land Use Law, and Institute of Law, Technology & Innovation host programming featuring top scholars and practitioners from around the nation and enhance the law school's training of students.
In our extensive clinical externship program, law students earn academic credit by working in one of 100+ outside law offices or courts. Placement areas include judicial, criminal, civil, legal services, appellate, business, and international.
Our rich curriculum includes series of courses focused on litigation skills, transactional skills, legislative practice skills, and administrative practice skills.