Erin Ryan
Image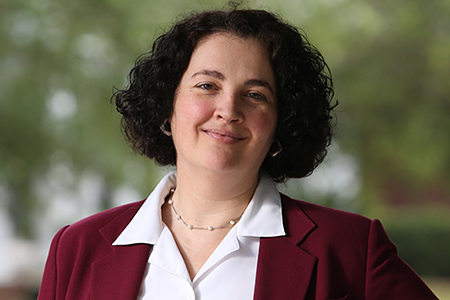 Position
Elizabeth C. & Clyde W. Atkinson Professor and Associate Dean for Environmental Programs
Contact Information
Florida State University College of Law
Advocacy Center, Room A227B
Phone: 850.645.0072
Fax: 850.644.7282
eryan@law.fsu.edu
Education
J.D., cum laude, Harvard University, 2001
M.A., Ethnomusicology, Wesleyan University, 1994
B.A., cum laude, East Asian Languages and Civilizations, Harvard-Radcliffe College, 1991
Professor Ryan teaches in the areas of environmental and natural resources law, property and land use, water law, negotiation, and federalism. She has presented widely in the United States, Europe, and Asia, including the Ninth Circuit Judicial Conference, the National Association of Attorneys General, the United States Forest Service, and the United Nations Institute for Training and Research. She has advised National Sea Grant multilevel governance studies involving Chesapeake Bay and consulted with multiple institutions on developing sustainability programs. She has been featured in the Chicago Tribune, the London Financial Times, the Associated Press, Thomson-Reuters Beijing, the Huffington Post, National Public Radio, and NBC and CBS Television News. She is the author of many scholarly works, including Federalism and the Tug of War Within (Oxford University Press 2012).
Prior to law school, Ryan served as a U.S. Forest Service ranger on the Mono Lake District of the Inyo National Forest, east of Yosemite National Park. While a law student, she was an editor of the Harvard Law Review and a Hewlett Fellow at the Harvard Negotiation Research Project. She clerked for Judge James R. Browning, of the U.S. Court of Appeals for the Ninth Circuit, before practicing environmental, land use, and local government law in San Francisco. She began her academic career at the College of William & Mary, and then joined the faculty at the Northwestern School of Law at Lewis & Clark College. Ryan served as a Fulbright Scholar in China, where she taught American law, studied Chinese governance, and lectured throughout the country. She has also guest-lectured at universities in Japan, Vietnam, India, Israel, Germany, Spain and the United Kingdom. Ryan graduated from Harvard College with a degree in East Asian Languages and Civilizations and received a Master's degree in Ethnomusicology from Wesleyan University. She joined the Florida State University College of Law faculty in 2015.
Select Recent and Forthcoming Publications
The Public Trust Doctrine, Private Rights in Water, and The Mono Lake Story (Cambridge University Press) (forthcoming 2022).
 A Short History of the Public Trust Doctrine and its Intersection with Private Water Law, 39 Virginia Envtl. L.J. 135 (2020).
Rationing the Constitution vs. Negotiating It: Coan, Mud, and Crystals in the Context of Dual Sovereignty, 2020 Wisc.L. Rev. 165 (2020).
The Twin Environmental Law Problems of Preemption and Political Scale, in Environmental Law, Disrupted (Keith Hirokawa & Jessica Owley, eds.) (Environmental Law Institute 2020).
Federalism as Legal Pluralism, in The Oxford Handbook on Legal Pluralism (Paul Berman, editor) (2020).
Environmental Rights for the 21st Century: Comparing the Public Trust Doctrine and the Rights of Nature Movement (with Holly Curry & Hayes Rule), 43 Cardozo L. Rev. __ (2021).
Tribute to Professor David Markell: A Colleague Among Colleagues, 36 J. Land Use & Envtl. L.__ (forthcoming 2021).
Environmental Law, Disrupted by COVID-19 (with Rebecca Bratspies, Vanessa Casado Perez, Robin Kundis Craig, Lissa Griffin, Keith Hirokawa, Sarah Krakoff, Katrina Kuh, Jessica Owley, Melissa Powers, Shannon Roesler, Jonathan Rosenbloom, J.B. Ruhl & David Takacs), 51 Envtl. L. Rep. 10509 (2021).
A Short History of the Public Trust Doctrine and its Intersection with Private Water Law, 39 Va. Envtl. L.J. 135 (2020).
Rationing the Constitution vs. Negotiating It: Coan, Mud, and Crystals in the Context of Dual Sovereignty, 2020 Wis. L. Rev. 165 (2020).
From Mono Lake to the Atmospheric Trust: Navigating the Public and Private Interests in Public Trust Resource Commons, 10 Geo. Wash. J. Energy & Envtl. L. 39 (2019).
Juliana v. United States: Debating the Fundamentals of the Fundamental Right to a Sustainable Climate (with Mary Wood, James Huffman, Richard Frank & Irma Russell), 45 Fla. St. L. Rev. Online 1 (2018) at fsulawreview.com/article/juliana-v-united-states-debating-the-fundamentals-of-the-fundamental-right-to-a-sustainable-climate/.
Breathing Air with Heft: An Experiential Report on Environmental Regulation and Public Health in China, 42 U.C. Davis Environs 195 (2018).
Negotiating Environmental Federalism: Dynamic Federalism as a Strategy for Good Governance, 2017 Wis. L. Rev. 17 (2017).
Secession and Federalism in the United States: Tools for Managing Regional Conflict in a Pluralist Society, 96 Or. L. Rev. 123 (2017). Republished in Alberto Lopez-Basaguren and Leire Escajedo San Epifanio, eds., Claims for Secession and Federalism: A Comparative Study with a Special Focus on Spain (Springer, 2019).
Fisheries Without Courts: How Fishery Management Reveals Our Dynamic Separation of Powers, 32 J. Land Use & Envtl. L. 431 (2017).
Multilevel Environmental Governance in the United States, 25 Envtl. Scientist 50 (2016).
Federalism, Regulatory Architecture, and the Clean Water Rule: Seeking Consensus on the Waters of the United States, 46 Envtl. L. 277 (2016).