Nadia Banteka
Image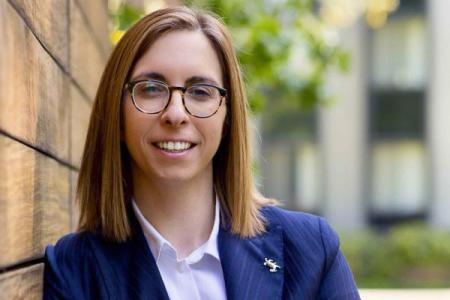 Position
Gary & Sallyn Pajcic professor
Contact Information
Florida State University
College of Law
Main Classroom Building, Room 326A
Phone: 850.644.2800
nbanteka@law.fsu.edu
Education
S.J.D., University of Pennsylvania, 2016
LL.M., University of Pennsylvania, 2012
LL.M., University of Nottingham, 2009
LL.B., Democritus University of Thrace, 2008
Nadia Banteka joined the Florida State University College of Law faculty as the Gary & Sallyn Pajcic professor in August 2023. Professor Banteka teaches and writes on issues concerning criminal procedure, criminal law, law and technology, and international law. Professor Banteka's recent research has focused on the intersection of criminal procedure and criminal law with an emphasis on policing and police accountability, as well as on emerging legal issues of artificial intelligence personhood within the criminal legal system and beyond.
Professor Banteka has published articles in several flagship law reviews including the UCLA Law Review, Vanderbilt Law Review, Notre Dame Law Review, Wisconsin Law Review, Houston Law Review, and Seton Hall Law Review. She has also published articles in top specialty law journals including the Journal of Criminal Law and Criminology, Virginia Journal of International Law, Michigan Journal of International Law, and Columbia Journal of Transnational Law. Professor Banteka has served as an invited expert with the Perry World House of the University of Pennsylvania, Oxford University, and the International Criminal Court Office of the Prosecutor.
Before joining the Florida State University College of Law, Professor Banteka spent two years as an assistant professor at the University of the Pacific McGeorge School of Law. Prior to her position there, she served as a visiting assistant professor at Villanova University Charles Widger School of Law, a visiting scholar at the Yale Law School, an assistant professor of law at Tilburg Law School in the Netherlands, and a research fellow at the Max Planck Institute for Foreign and International Criminal Law. Before entering academia, she was a public defender and has practiced as defense counsel before the International Criminal Tribunal for the Former Yugoslavia. 
Professor Banteka holds law degrees from the University of Pennsylvania Law School, where she served as a Dean's Scholar and was awarded the Karin Lest Award of excellence for graduating first in her graduating class.
Select Recent and Forthcoming Publications
Artificially Intelligent Personhood on a Sliding Scale, in The Cambridge Handbook of Private Law and Artificial Intelligence (Ernest Lim & Philip Morgan, editors) (Cambridge University Press) (forthcoming 2023)
Police Brutality as Torture, 70 UCLA L. Rev. __ (forthcoming 2023)
Unconstitutional Police Pretexts, 2023 Wis. L. Rev._ (forthcoming 2023)
Fair Notice and Criminalizing Abortions (with Brian Slocum), 113 J. Crim. L. & Criminology _ (forthcoming 2023)
Police Ignorance and (Un)Reasonable Fourth Amendment Exclusion, 75 Vand. L. Rev. 365 (2022)
Rethinking Constitutionally Impermissible Punishment (with Erika Nyborg-Burch), 98 Notre Dame L. Rev. Reflection __ (forthcoming 2022)
Artificially Intelligent Persons, 58 Hous. L. Rev. 537 (2021)
A Network Theory Approach to Global Legislative Action, 50 Seton Hall L. Rev. 339 (2020)