Bruce Blackwell ('75)
Leading The Florida Bar Foundation in a New Direction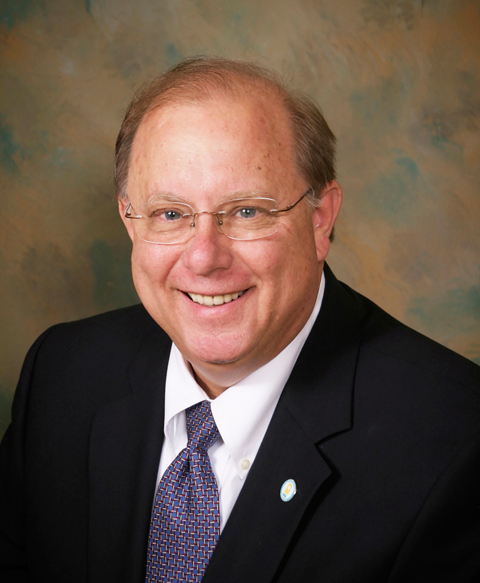 After a successful career in complex civil litigation, it would have made sense for Bruce Blackwell to switch his focus from trials to travel when he retired from private practice. Instead, he took the helm of The Florida Bar Foundation.
"It was hard to leave my law firm because I love it and I love the lawyers I worked with – they are brilliant," said Blackwell, who became the Foun­dation's second only CEO/executive director in 2014 after retiring from the Orlando firm he helped found 30 years prior. He had been serving as interim director of the Foundation for several months while he was still practicing law at King, Blackwell, Zehnder & Wermuth, P.A.
Because his firm was committed to serving the profession, Blackwell has a long history of service to the Orange County Bar Association and to The Florida Bar. When his term on The Florida Bar Board of Governors ended in 1998, he joined The Florida Bar Foundation Board of Directors, serving as president in 2007-2008. In his cur­rent leadership role at the Foundation, Blackwell owns the challenging task of helping the organization fund and facilitate a new vision for Florida's legal aid delivery system in a rapidly chang­ing legal marketplace.
"In this new job, I'm able to be in­volved with a group of people, on our staff, within the Bar as a whole, with the Vision 2016 group, with the leadership of The Florida Bar, and with the Florida Commission on Access to Civil Justice, where, hopefully within the near term, we really can make change – positive change that will help the profession and the public we serve," said Black­well. "I've been having a ball. I want to believe that I can make some small difference."
Blackwell is proud of the difference the Foundation has been making since its inception in 1956.
"Since the Foundation came into existence, through the Interest on Trust Accounts from Florida lawyers, more than $450 million has been funneled into representing the most needy people in Florida – the people who would have otherwise been denied services," said Blackwell. "Regardless of the nature of your practice, you should do pro bono work. If you do it, you'll actually get more out of it than you're putting in. You have the opportunity to make a difference in people's lives. Isn't that part of why you became a lawyer, because you thought you wanted to help people?
"The Foundation is the statewide organization that helps make access to justice and to our courts real and we can use your support monetarily, particu­larly in these times when interest rates are almost zero, but also by contributing to your local legal aid programs. We are working really hard to make significant change in how Florida delivers services and access to the courts, to provide justice."
Through his own portfolio of pro bono work, Blackwell has been helping Floridians obtain access to the legal system since long before he joined the board of the Foundation. He has earned numerous pro bono-related awards, in­cluding the American Bar Association's Pro Bono Publico Award in 2013.
"Once I became a lawyer, I realized that there were a lot of people that didn't have access to lawyers and to the system," said Blackwell. "I really believe that justice works well when it works for everyone, and it doesn't work at all if it doesn't work for everyone. That's why I have handled a number of hard pro bono cases over the years."
Blackwell left an excellent job as an officer in the U.S. Air Force to pursue the law degree that has allowed him to give back. Perhaps Blackwell is drawn to helping those less fortunate than him because he can relate. By age 11, Blackwell had lost both of his parents. He and his brother were then raised by their aunt in a rural town of 400 people. "I grew up very poor, with very limited means," recalled Blackwell. "The first lawyer I ever met was the one that did our adoption."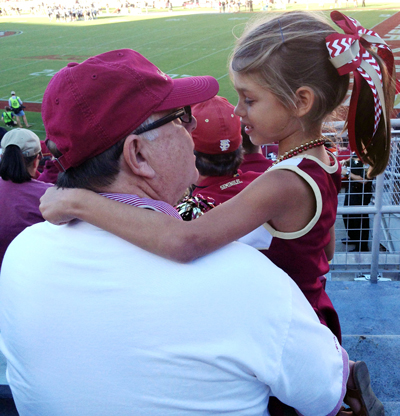 Blackwell credits his aunt with teaching him the value of hard work, which has served him well throughout his career.
When the demands of his job as CEO/Executive Director of the Foun­dation do not require him to be in Florida, Blackwell sometimes works from his home in Asheville, North Carolina. From his yard, where he is often joined by bears and wild turkeys, he can see 16 mountain tops. He and his wife, Julie McMillan Blackwell, discovered Asheville when Blackwell was an attorney for Southern Bell 40 years ago and traveled to the area.
Blackwell and his wife have been together since before he graduated from the College of Law in December 1974. They met as undergraduates at Florida State University and have been married for more than 46 years.
"I married really well," said Black­well. "The key thing for us in raising a family was to raise children that would make a difference and hopefully leave this world a better place. I think we have succeeded with our two children in that regard."
The Blackwells are understandably proud of their two daughters: Blair Al­lison Blackwell, who runs Chevron's national STEM program, and Brooke Blackwell Castino, who is a stay-at-home-mom to 8-year-old Emma Kate and 5-year-old Allison. Because his grand-daughters live five minutes away, Blackwell spends plenty of quality time with them. The girls often have sleepovers with their grandparents and even spent two weeks this summer with their grandmother in North Carolina. Blackwell took Emma Kate to her first FSU football game last fall.
Although Blackwell has numerous professional accolades to speak of – he was named one of Florida's top 100 lawyers toward the end of his law career – he seems to prefer talking about the many accomplishments of his daughters and about their relationship.
"When Blair did her thesis at Princ­eton, the front of her thesis said, 'To my sister Brooke, from whom I'm always learning.' As a father, it doesn't get any better. You've done something right." 
As printed in the fall 2015 issue of Florida State Law magazine.