Called to the Courtroom: B. Richard Young
---
Called to the Courtroom: B. Richard Young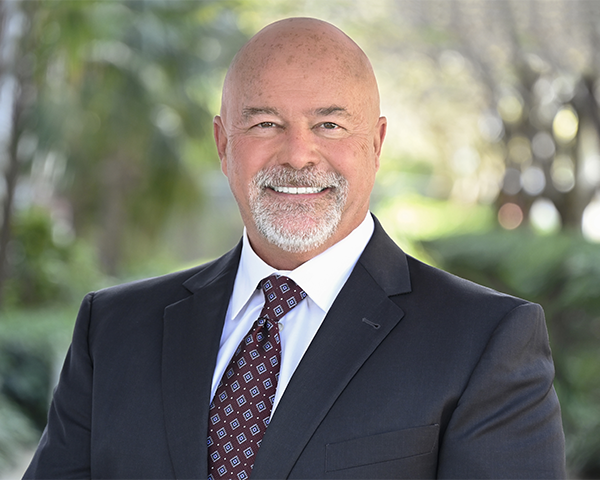 Richard Young reached a point in his life when he felt more comfortable sitting in the courtroom than anywhere else in the world. Born and raised in South Alabama, Young's family moved to Pensacola when he was 11 years old. But Young, now the managing partner at Young, Bill, Boles, Palmer, Duke & Thompson, almost didn't choose a life in the law.
When he started law school, he came to a crossroads between teaching martial arts and becoming a lawyer. It was the encouraging words of a law professor that helped him get through three years of law school and put him on the trajectory of his current success. 
"I couldn't have picked a better profession," said Young, a 1984 graduate of FSU Law. "I don't think anything would have suited me better than what I've been doing."
Since Young knew he wanted to be a trial lawyer and "be where the action was," after graduating from law school he took a job in Miami at the firm now known as Kimbrell & Hamann. Although he first started with aviation crash work, the aviation cases rarely went to trial. He was advised by another lawyer at the firm to get some automobile cases because that was where the courtroom work was. "Before I knew it, I had tried 25 auto cases to verdict and had a really good track record winning them."
Several years later, because he developed a good relationship with Geico as a client and because of his success rate for them, Young was invited to open Geico's house counsel office in Miami, their first house counsel office in the state. He then opened their next house counsel office in Ft. Lauderdale and then one in Tampa. He ran those offices from 1988–1992.
Young moved back home to Pensacola at the end of 1992 and ran a house counsel office for Geico there before deciding he wanted to practice a wider range of trial law than just auto accident cases. With essentially no clients, he decided to branch out on his own. And with two young sons to provide for, he threw himself into building a practice. "I spent every day for a year trying to drum up clients."
A turning point came in 1998 when Young received a call from a claims manager who thought a bad faith case they had was a little too difficult for his in-house attorney. Today, Young's firm specializes in bad faith and coverage work, but they have done just about everything—including products liability, admiralty law, auto work and premises liability.
"I love pitting my wits against another lawyer in a courtroom," said Young. "It really is a personal one-on-one competition. There's going to be a winner and a loser, and I want to be the winner because the feeling of losing is so bad, something I could never capsulize in words. But, the opposite is true when you win—the feeling of elation and joy and happiness is hard to describe, especially if you really have your heart into it."
Fortunately, due to his 90% rate of winning cases, Young doesn't experience that losing feeling often.
"I'm very proud of my track record in the courtroom and how many cases I have won, and especially how many difficult cases. There's no such thing as an easy bad faith case." He is also proud of making a mark in the state of Florida on the law of bad faith. "It would be hard to crack a book and look at a case involving bad faith—you couldn't look at five of them decided over the last 20 years without finding my firm name in one of them, or more."
Although he loved being in the courtroom, as of January 1, 2021, Young is no longer trying cases. It was hard to walk away, but as much as he loved it, there came a point where he said, "I just think it's time."
Now, he's moved into more of a consulting role for the trial lawyers in the firm to make use of his experience. Young feels strongly that comradery is one of the most important aspects of a successful, long-lasting firm and referred to his firm's lawyers as "exceptional—not just incredibly bright and skilled at what they do, but just really good people." In this new role, Young still works with his team and does the analytical examination of cases he enjoys.
"We like to talk to each other about legal theories, legal ideas," he said. "We love nothing better than to have a tough case with some interesting facts and something we think the average bear would have a little trouble figuring out 'how do you win this thing?'—figuring out our strategy and coming up with the angle that nobody else considered. The argument that was there all the time, it just wasn't obvious to everybody. So, I spend a good bit of time kicking theories around with them, working out strategies and discussing how to respond to certain things."
Now that Young is retired from the courtroom, he hopes to have time for some of his other interests. Young has always loved outdoor activities, including almost anything on the water. He lives on the beach in Pensacola and has property in Alabama, where he considers being out in the woods therapy. Young enjoys fishing, hunting and snow skiing. And as soon as the COVID-19 restrictions end, he intends to do a lot of traveling.
Young is a Golden Chief, a big supporter of Seminole athletics and "bleeds garnet and gold for our football team," but in 2007 he asked himself, "If I as an alum of Florida State don't support my law school and make it the best that it can be, then who will? If not me, then who?"
To support his love of trial practice and because there was no Trial Team when he was a law student, Young created the Young Family Endowment to support the FSU Law Trial Team, as well as a merit scholarship."
He recalled a time he spoke to the Trial Team and told them, "Everybody has their idea of what it means to be a lawyer and what they want to do. I don't have any issues with any style of law they choose, but frankly, I can't understand why anybody would want to be a lawyer and choose to be anything other than a trial lawyer." Proud to be the first member of his family to graduate college and the only one to earn a doctorate, Young wanted to give back to the school so that students who want to be trial lawyers and want to engage in trial competitions, would have the opportunity to compete in those competitions across the country."
If competing in a Trial Team competition can give a student just a little taste of Young's passion for the courtroom and mastery of the art of cross examination and creating a closing argument, they too may find their calling.
As printed in the 2021 issue of Florida State Law magazine.