Chancey Smith
Full-Width Featured Image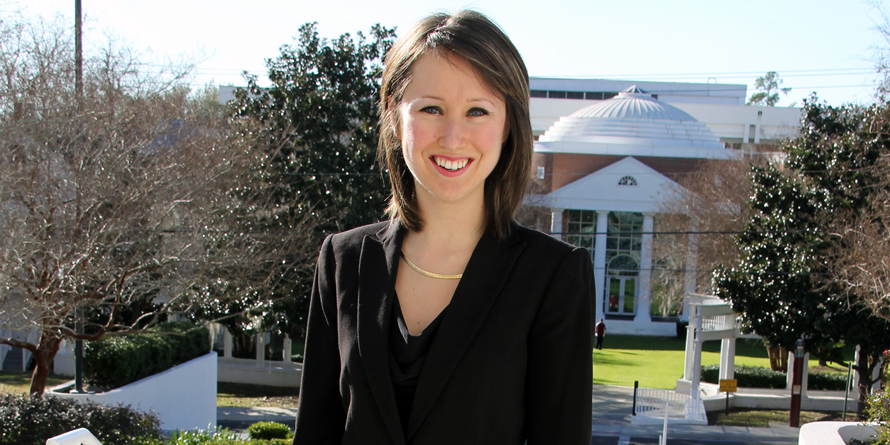 Q&A with Student Chancey Smith
Why did you decide to attend Florida State University College of Law?
I was very intrigued by FSU's international programs and the range of expertise that the school had to offer. I applied to law school from overseas, and was very impressed by how friendly and helpful the admissions office was throughout the entire process.
Why are you interested in international law?
I saw international law as a way to incorporate my passion for traveling into a career. I love being immersed in a new culture and getting to know where other people come from.
Tell us about your externship at the Constitutional Court of Korea – Seoul during the summer of 2014.
Working at the court was an incredible opportunity to experience many different kinds of legal work while observing and learning how to navigate Korean professional culture. The Korean attitude toward work is very different from what we think of in America. It is very much about "saving face." The culture is very hierarchical. Even the language changes depending on the status of the person you are talking to. As a result, communication is often inefficient because it is impolite to offer improvements on a supervisor's idea. Throughout my experience Professor Gertz provided a lot of helpful prompts to facilitate thought about the differences in the legal systems as well.
While at the court I wrote research memos comparing several areas of Korean and American law. Much of my research focused on comparative abortion law. I also observed hearings at the Constitutional Court and worked closely with my supervisor and helped her select and research the topic for her upcoming paper regarding the rights of asylum seekers in South Korea. In addition to my work, I reached out to several fascinating international lawyers in Seoul and was truly inspired by their work and attitude toward their profession.
You had worked in South Korea before law school. What did you do previously and how did that impact your externship?
I taught Kindergarten at a private English Academy in Seoul before coming to law school. I fell in love with Korean culture and lifestyle. I love the energy of Seoul. It is extremely crowded and fast-paced, but everyone is very friendly and you get a real sense of connection. I love being around people and meeting new faces all of the time, and Seoul is incredibly social. Many Korean people do not socialize in their homes so restaurants and bars are always full of life. There is a thriving expat community within the very homogeneous Korean culture that makes it very easy to become involved, and Korean people are extremely welcoming and eager to help. Seoul is also very safe and easy to navigate. I felt comfortable by myself in the city at any hour of the day or night, and unlike many major cities in the U.S. there are not any neighborhoods to avoid. I cultivated several meaningful friendships in Seoul and knew I wanted to come back to the city. I actually learned about my externship this summer through a very good friend that I met while I was teaching.
What were your favorite assignments during the externship?
I really liked working closely with my mentor and helping her with research for her long-term projects. Typically, the research officers produce two major research papers per year, and I got to help my mentor research and pick her next topic which addresses the rights of asylum seekers in Korea. I am really excited to read her paper when it is published.
What did you do in your free time in South Korea?
I cherished the time I had with friends there, and I spent a lot of time outside. The Han Park runs along the river all the way through the city. It is a great place to picnic or ride bikes. I also did a lot of hiking while I was there. You wouldn't think of a major city being a good place to hike, but there are several beautiful hikes in the city limits. It is really the best of both worlds for me because there is the excitement and the social aspect of the city with the outdoors so easily accessible.
What advice would you give to students who want to pursue an international externship?
Go out and find what you want and keep looking for ways to get there. My fellow externs at the court were all Ivy League students. One day I asked my supervisor why she hired me and she told me it was because I applied for the position more than a year in advance so she knew I genuinely wanted the experience.
What advice would you give to students and alums who want to visit or work in South Korea?
During 1L orientation, Dean Weidner advised our class to "be interested" and it is something that I have truly taken to heart. If you make an effort to be genuinely interested and open to new experiences and opportunities then your experiences are much more rewarding on a professional and personal level. No matter where you are visiting or looking for employment it is important to stay interested both in the people that you meet and in the work that you are doing.
What do you want to do professionally after graduating from Florida State Law?
I am currently interning with Air Force JAG, and am loving the experience. I am not positive as to what I will do after graduation. However, I would be excited and honored for the opportunity to become a member of the Air Force JAG Corps. Ultimately, I want to find a job that I am excited for, and I think that could take many forms for me. There are so many different opportunities to pursue in the law, and FSU has created an invaluable network of staff and alumni to help guide the way.
How has completing the externship in South Korea benefited you as a student and future lawyer?
The practice of navigating professional cultural and language barriers will be helpful for any international career, and it was a great feeling to be able to help with such high profile research. It has also helped me to realize that I am very happy with my decision to come to Florida State Law. It was a great comfort to be able to have such a challenging experience with the guidance of so many people at FSU.
As printed in the fall 2014 issue of Florida State Law magazine.