Cody Fowler Davis ('84)
Proud Father & Accomplished Trial Attorney (1959-2017)
Cody Fowler Davis passed away in January 2017. He was interviewed for this article in November 2016.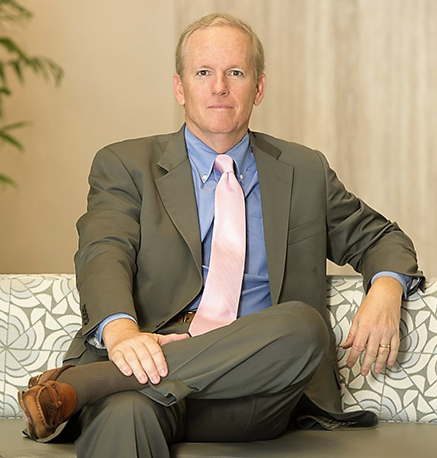 When your grandfather's resume includes serving as president of the American Bar Association and the American College of Trial Lawyers, and your father was a judge and law professor, you see the law as your likely profession from a young age. Although Cody Fowler Davis ('84) dreamed of playing professional tennis before becoming a lawyer, a surgery prevented him from realizing that dream, so he enrolled at the Florida State University College of Law earlier than planned.
Davis was destined to have a successful law career, but, according to him, his family was his greatest accomplishment. From the time his first of four daughters was born – on the day before he took the bar exam – Davis always made family his first priority. 
Family meant everything to Davis. He met his future wife, Beth, when they were both undergraduates at Vanderbilt University and they were married the summer before Davis' final year at FSU Law.
"We met in the student union," said Davis, who played tennis for Vanderbilt. "She sat through a lot of tennis matches."
Davis' legacy is the amazing daughters he and Beth raised. When he talked about his family, the pride swelling within him was obvious.
"I'm quite proud of what my kids have accomplished," Davis said. "They are all amazing students."
His eldest daughter, Elizabeth, and her husband, Dave, are co-founders of a non-profit organization – the Akilah Institute for Women – in Rwanda, Africa. They also live part time in Hong Kong with their two young daughters, Lorraine and Tamysn. Davis' second born, Mary Patton, earned an MBA from Wharton and lives and works in California. Caroline, Davis' third-born daughter, is a Harvard graduate who now lives and works in Hong Kong. His youngest daughter, Cody, attends the University of Chicago and plans to go to medical school after she graduates. When his daughters were younger, Davis served on the boards of their schools. As they went away to college, the Davis' centered their vacations around visiting the girls at school.
Davis and Beth also enjoyed fishing, boating and scuba diving on the weekends. And Davis was still an active tennis player before he passed away – he played in a tennis league every Monday evening and racquetball every Tuesday.
At the office, Davis earned a reputation for winning in the courtroom. One of the few attorneys to be board certified in both civil trial and business litigation, Davis spent the first several years of his career trying civil defense cases. Following his success in that area, he began working on cases for his firm's business department.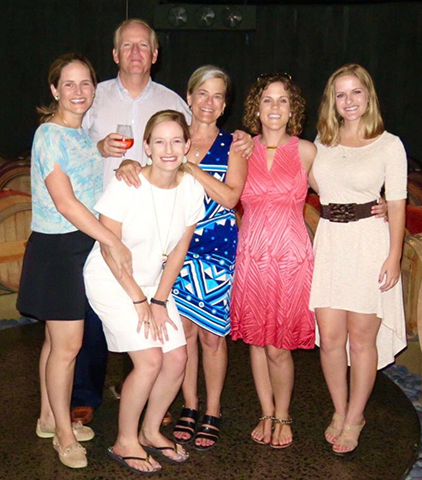 "I had a split personality," Davis said. "I was doing civil defense of personal injury, and at this point had moved up to very serious injuries or deaths, yet I'm also trying business cases. And I'm doing well in the courtroom on both. But then people started coming to me to represent their families and individuals on the plaintiff's side. So now, I'm handling some plaintiff's cases and I'm a total split personality now."
Eventually, Davis decided he wanted to represent plaintiffs almost exclusively. In 2010, with that goal in mind, he opened Cody Fowler Davis Trial Attorneys, PA.
"We're almost exclusively plaintiff 's work with a few defense cases," Davis said about his firm. "Having done defense work, we know how the other side handles things. We use our background in defense work to make us more successful plaintiff's lawyers."
He went on to say, "I like dealing with individuals. I like hearing their life stories. I get to help people. People who are in accidents, you can't go back and un-hurt them, but you can get them money to help them make their life more tolerable and it makes them happy. It makes you feel really good."
Davis also was a board certified civil mediator and a member of the American Board of Trial Advocates. He was serving as an expert before he passed away. 
"I was asked by The Florida Bar, which I have great respect for, to be an expert in one of their matters on the standard of care in a high-end case and testified at trial for The Florida Bar," Davis said. "The fact that the bar came to me to serve as an expert, I look at that as a compliment."
Davis was also proud of being recognized in Tampa Magazine in 2016 as the #1 attorney in the areas of insurance law and plaintiff's personal injury litigation. 
"That's a pretty nice honor," Davis remarked about the recognition, which was based on the results of a survey mailed to 11,000 attorneys. "That award means a lot to me because it's not some magazine editor saying you are good, it's the people you deal with day in and day out saying you are good."
A gifted writer, Davis published two books in his spare time. Green 61 (2006) and Implied Consent (2008) are legal fiction novels based loosely on Davis' experiences. "I wrote in college and then at a time in my life when things were very hectic – my brother was running for governor – it was a very stressful time. I was covering events for him all over the state and I wrote to relax. It was my stress relief.
"The first book I wrote was about a lawyer struggling with going from defense work at a big firm to plaintiff's work – it was something I was doing at the time."
Although Davis was interviewed for this article about him and his practice, the conversation always made its way back to his wife and daughters. He pointed out pictures on his Facebook wall, focusing on the many family photos and recalling each event and accomplishment with pride. He also pulled up the Akilah Institute's website so he could brag about the wonderful work of his daughter, Elizabeth.
Davis was proud of where he came from – sharing stories of how his great grandmother, Maude Fowler, and grandfather, Cody Fowler, had done much to shape Tampa – and proud of how his daughters are carrying on the family name, now with added determination in his absence.
As printed in the 2017 issue of Florida State Law magazine.