Alum John E. Thrasher
The Law School's First FSU President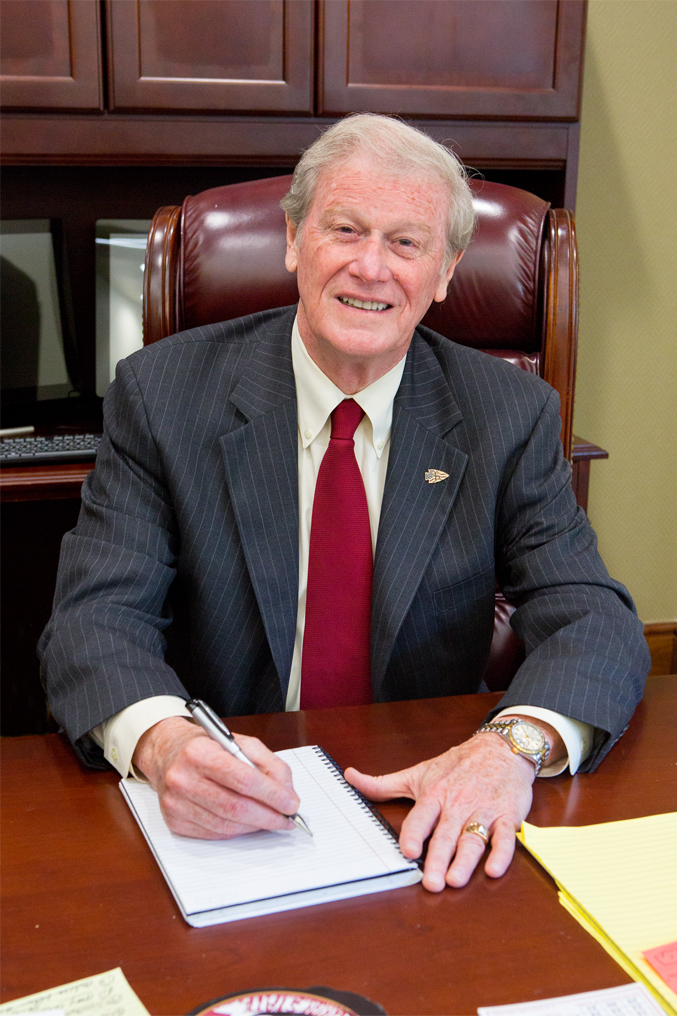 On Monday, November 10, 2014, John Thrasher became the first College of Law alumnus to assume the Florida State University presidency. "I've had a love for Florida State University for many, many years," said Thrasher, who obtained his bachelor's and law degrees from FSU.
"Florida State gave me opportunities to achieve my hopes and dreams. I got into politics, which gave me a platform to help the university. Over the years, even when I wasn't in the House and Senate, I think I was able to help out. Being president is kind of the culmination of all that. Obviously I thought about it, but never dreamed I'd have the opportunity. To have the opportunity is an incredible blessing."
Thrasher's steadfast support for the university has been extremely impactful. In addition to helping the law school obtain funding for the Advocacy Center when he was a state senator, Thrasher previously served as the first chair of the FSU Board of Trustees. The medical school is also named in Thrasher's honor because he was a key supporter of legislation to fund the College of Medicine.
Although still in the early months of his presidency, Thrasher has a clear vision for what he plans to accomplish. His first priority is to lead Florida State into the nation's top 25 public universities.
"So much of our ability to provide the best experience for our students is related to resources and we depend on the Florida Legislature for a great deal of that," said Thrasher, who was interviewed for this article during the first week of the 2015 legislative session. "We are working hard to let the legislature know that we're accountable for the resources they provide us and that we're good stewards of those dollars, but that in order for us to get into the top 25 of public universities, we need their support. We have to demonstrate that those dollars are going to be used in an effective way."
Thrasher points to graduate outcomes– job placement and societal contributions – as evidence of Florida State's successful use of resources. 
"Our students are getting good opportunities– particularly our law students – in both the private sector as well as the government sector. You see how gifted and incredible they are. These young people are just exceptional. They are people we are proud to have at FSU and proud to send out into the world."
Faculty salaries also are a top priority– especially ensuring that long-time professors are competitively compensated. "We have had some market issues– the concept is called compression– where we have to bring in younger people at a level almost as close to the same level as some of our senior professors and we're working on trying to adjust, if you will, the salary equity issue that is out there. In order to retain and obtain quality faculty, we've got to be very competitive in terms of salary."
Another goal is to continue to build cutting-edge facilities that will accommodate the university's growing student body, which is comprised of 42,000 members this year.
Additionally, Thrasher is determined to reach the $1 billion 'Raise the Torch' campaign goal that he inherited. "I feel a sense of direct responsibility," said Thrasher. "We're a little over halfway there, so I'll be on the road a lot between now and next fall, meeting with potential donors, meeting with friends of the university and alumni, and telling the story about how good Florida State University is. Our law school is one of the top ranked in the country; our other schools are doing very well. We
need to get out and make sure people understand that story."
Thrasher has been visiting cities across Florida during the past few months to spread the word about his goals for Florida State and about all of the wonderful things that are occurring at his beloved university. During his travels, he has enjoyed meeting many fellow alums who are eager to help him elevate their alma mater. He has also spent the last several months getting to know the staff at Florida State and learning the complexities of the university's budget.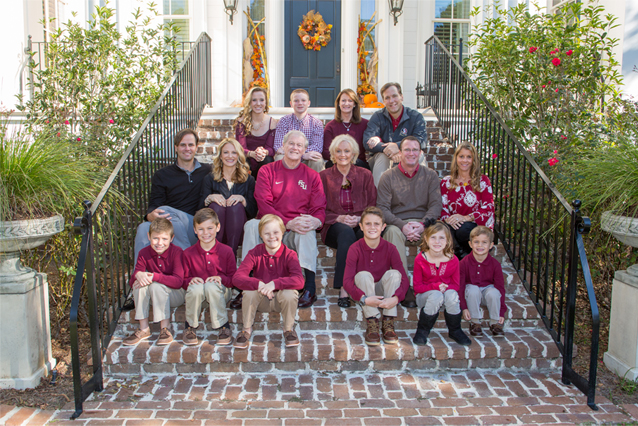 Although it may seem like his previous experience in politics is vastly different from his work at the university, Thrasher's core personality traits make him well suited for both worlds. "There are three basic, fundamental things that I have in my DNA," said Thrasher. 
"We have to embrace big ideas, we have to not be afraid to measure outcomes – are we doing the right things and accomplishing goals we've set, and we've got to communicate, to be very transparent."
Thrasher believes those three traits were keys to his success in governmental relations and also will be keys to his presidency.
Thrasher grew up on Jacksonville's west side and attended Robert E. Lee High School. After earning his bachelor's degree in finance from Florida State, he served in the U.S. Army. Thrasher earned an Army Commendation Medal in Germany and two Bronze Stars for his service in Vietnam before being honorably discharged in 1970. Never one to slow down, Thrasher headed straight to Tallahassee to study law.
"I had returned from Vietnam, literally four days before I started law school," said Thrasher. "It was a cultural shock."
Because he and his wife, Jean, were raising two young children when he started studying law, Thrasher was determined to earn his juris doctor as quickly as possible. Although he also was working full-time, Thrasher graduated with honors in a little more than two years.
"I had to get out and get a job to support my family," said Thrasher, who graduated from the College of Law in December 1972. "It was a stressful time. I give my wife all the credit for holding us together as a family and all the things she did to help make life as comfortable for us as possible."
In December, the Thrashers celebrated their 50th wedding anniversary. The couple attended the same high school in Jacksonville, but they did not meet until Thrasher was a sophomore at Florida State University.
"We got married my senior year and that last semester, I made the best grades I ever made in four years of college; she had a lot to do with my success," remarked Thrasher.
Two of their three children also graduated from Florida State and Thrasher hopes many of his eight grandchildren will follow the same path. His oldest grand-daughter is in high school, so she will be evaluating colleges in the near future. If Thrasher's grandchildren do attend FSU, his work at the university will likely impact them.
"I'm excited to be at FSU and looking forward to the next several years. It's all about, how can we move the needle to make the experience for our students even better – not only for the students that are here now, but also for the students in the future. It's all about making sure that our students have the same opportunities that a lot of us who are alumni had to pursue their hopes and dreams, and to make sure that doors are open for them."
As printed in the spring 2015 issue of Florida State Law magazine.